TOLEDO, Ohio -- When Naama Shafir came to the U.S. from Israel to play basketball, she had to get special dispensation from her rabbi to play on Saturdays.
So the question became: Who would punch elevator buttons or flip light switches -- or do any of the other things that Orthodox Jews consider "work" on the Sabbath?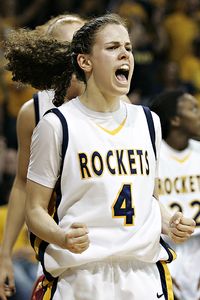 AP Photo/JD PooleyNaama Shafir celebrates on Saturday during Toledo's 76-68 win over USC.
"I didn't know how it was going to work," Shafir told Page 2 on Sunday. "I knew the people around me weren't going to be doing the same things, but they respect it."
Shafir, who scored 40 points on Saturday when Toledo beat USC to win the WNIT Championship, didn't speak to the media that day. Nor did she ride with her teammates back to campus.
After making six free throws in the final 25 seconds, she walked 20 minutes back to her apartment without participating in a press conference that would have violated her beliefs.
While some question her faithfulness, Shafir was at peace at the center of a frenzied championship celebration that came, ironically, on a day reserved for quiet reflection.
"I have heard before that, 'What you are doing is not right,'" Shafir said. "But I believe what I am doing is right."
The rub is this -- Orthodox Jews observe the Sabbath, the period between sundown Friday and sundown Saturday as a time for rest and prayer. So other than get special permission to play basketball, Shafir celebrates the Sabbath as she usually would.
And she and her team, have found a way to allow her beliefs and basketball to co-exist.
Shafir travels to road games a day early since she can't use motorized vehicles on the Sabbath. She packs kosher meals and skips Saturday film sessions -- all part of a strict set of guidelines she faithfully abides to.
"There's a few things we have to do to adjust for her," Toledo coach Tricia Cullop said. "But she gives back ten-fold."