LOS ANGELES -- OK, I have to hurry.
Monday is the NCAA men's basketball championship game between Connecticut and Butler. And I'm a huge college basketball fan.
I'm going to miss part of the game because I'm going to the party to help launch the Unbreakable perfume by my sister Khloe and her husband, Lamar Odom.
(Don't think I'm not going to sneak a peek at a TV somewhere. And don't tell Khloe, but I bet Lamar will also.)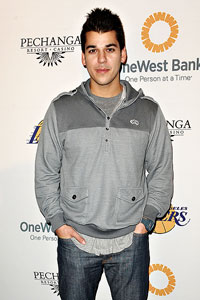 Jason LaVeris/Getty ImagesI'm a big college basketball fan and I'm rooting for ...
To get myself ready and see how the game will be decided, Monday afternoon I played "NCAA Basketball 10" on Xbox 360.
Surprisingly, my video game played out like I think tonight's game will play out.
I'm a big fan of Connecticut and coach Jim Calhoun and his Northeastern accent. (Don't ask.) And I think UConn has a lot of big guys who will spell trouble for Butler.
And that's what happened when I played.
UConn's Kemba Walker pretty much was the star throughout. He was hitting midrange jumpers. He was making big steals. He was the difference-maker.
For Butler, Matt Howard was almost nonexistent. Guard Shelvin Mack did a lot of work and helped keep his team in the game.
Butler spent most of the game in a full-court press, and the score was tied at 30 at halftime. It was a lower-scoring game than I thought, but it likely was because Butler slowed down the clock.
In the second half, that's when UConn took over and Walker stepped up.
Butler struggled to get the ball inside. The Bulldogs relied on 3-pointers to get them back into the game but that wasn't enough.
UConn 49, Butler 41.
I thought UConn would blow them out but the Bulldogs stayed close. It really was a physical game.
Well, got to get ready. Go Huskies!
Rob Kardashian is spokesman for rivalspot.com, an online site for playing video games, and will occasionally write for Page 2. He can be followed on Twitter here.