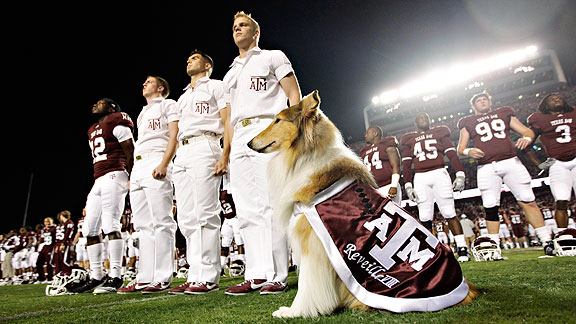 AP Photo/David J. PhillipReveille is a five-star general, the highest-ranking member of Texas A&M's Corps of Cadets.
Butler's mascot, a 7-year-old English bulldog named Blue II, became quite the celebrity during Butler's NCAA Tournament run.
At the InterContinental Hotel in Houston, the hotel bar had a bed and monogrammed bowls laid out for him and a signature martini named in his honor. The Blue II Martini featured blue Curacao, vodka, lemon juice and blueberries.
Meanwhile, another canine mascot who's long been a star on her campus has a team playing for the women's basketball national title Tuesday night. Reveille VIII, Texas A&M's mascot, is a collie who easily has more in common with students than any animal mascot. She lives in the dorms, goes to classes, and even has a student identification card.
But unlike Blue II, Reveille might not make it to the title game. According to Texas A&M officials, Reveille will be in Indianapolis for Tuesday's championship game between the Aggies and Notre Dame at 8:30 ET on ESPN. There, she'll meet the team and fans, and offer her support. But, officials say, the limitations on the number of students on the court might mean there's not enough room for her handler, a student, to accompany her.
So we'll just have to wait and see if the students can manage to get her into the game.
Such uncertainties are not usually a part of the pampered pooch's life. Despite living on campus like a student, she's still got quite a bit of an advantage over the typical college kid (including traveling by private jet to the title game):
• She is the highest ranking member of Texas A&M's Corps of Cadets, and was given an honorary designation as a five-star Cadet General after World War II by the U.S. Army to thank Texas A&M, then a military school, for its assistance in the war effort. Members of the still-sizeable Corps of Cadets address Reveille as "Miss Rev, ma'am."