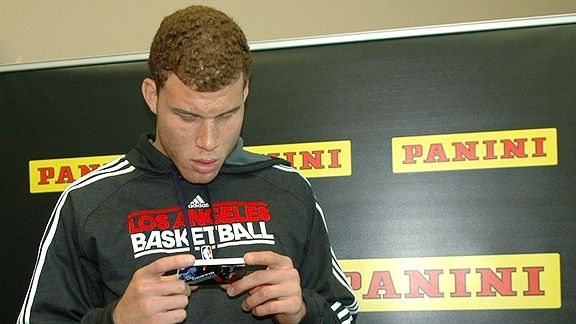 Courtsey of Panini Blake Griffin sees his video trading card for the first time at Panini's headquarters in Dallas.
If you know your MTV history, then you know that "Video Killed the Radio Star" was the prophetic first clip aired on the network.
Let's just hope the latest creation from Panini America isn't someday subtitled "Video Killed the Trading Card."
Panini, the NBA's exclusive trading card licensee, recently unveiled its plan to take trading cards into the future with collectibles that play high-definition video highlights -- and one of the first people on the planet to see one of its HRX cards was Los Angeles Clippers forward Blake Griffin.
"It's unbelievable, man. I just got to see it," said Griffin while at the company's headquarters in Dallas. "It's crazy. You never think something like that is going to happen and then to actually see it ... it's going to be game-changing."
Griffin, the newest spokesman for the card company (a deal signed Thursday), got to see firsthand an innovation that has had collectors buzzing -- and that chatter had little to do with the highlights he watched on his own card just by hitting the play button.
"Man, to be honest, it kind of takes you back a little bit at the beginning," said Griffin in an interview with Beckett Basketball magazine. "But it's unbelievable, and it kinda takes me back to when I was trading cards as a kid and it was just a little cardboard card -- but now they have videos playing."
Griffin will join the other members of the Panini spokesman squad -- Kobe Bryant, Kevin Durant and John Wall -- as the first NBA players on video cards when they are found randomly inserted into packs of Panini's 2010-11 Totally Certified, which arrives in June.
Panini was the first card company to unveil its plans for a video trading card at a recent industry event in Las Vegas, but it's not alone. Two days after Panini's news, Upper Deck pulled back the curtain on a project that it had in the works for its line of NCAA-focused football cards.