The royal wedding of Prince William and Kate Middleton isn't exactly a sporting event, but that's not stopping Topps from getting into the action on trading cards and injecting it into a baseball card set that arrives this week.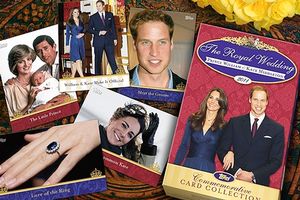 ToppsYou can celebrate the Royal Wedding by acquiring these trading cards.
Collectors who rip into packs of the 2011 Gypsy Queen baseball cards when it arrives Wednesday just might find a "Royal Jewels" card noting Friday's big event. Gypsy Queen is modeled after an 1880s baseball card set and will include unusual bonus cards of various jewels and gems treasured by gypsies as much as baseball cards are by collectors today. (Don't worry, we're scratching our heads on that one, too …)
But the real action comes on the QVC home-shopping channel on Friday when Topps' 50-card "The Royal Wedding" card set goes on sale on the air.
The $20 set will include various cards of the royal couple as well as Princess Diana, Prince Charles Queen Elizabeth II and, of course, even a card of the engagement ring.
There might be a sports star somewhere in the set after all. Soccer star David Beckham was on the invitations list.