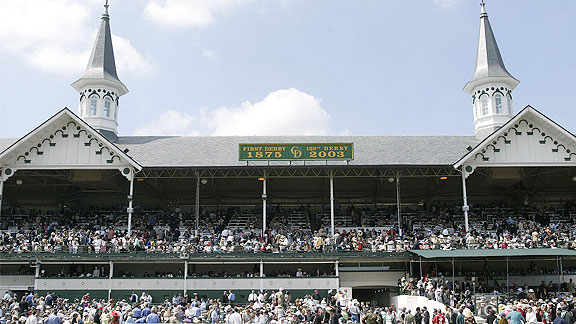 Horsephotos.com What clever horse names can you come up with for Saturday's 137th running of the Kentucky Derby?
This is the week of the Kentucky Derby, which will be the 127th Run for the Roses on Saturday. Around here it also is one of the most enjoyable "Top 10 list" weeks of the year because this is when we ask you to name a horse.
We have a strong response every year because it's fun. The only actual "thoroughbred naming" rule that we demand is that the name may not be longer than 18 characters, including spaces between words. You can try to get around this by running words together such as "canyoucountupto18?"
The one rule we are adding is that your name must have some sports connection, because this list will be "Top 10 Sports-Related Horse Names." So think of name's such as "Barry's Doing Time" or "Brett's Last Pass." But you can do better than that. Funny names are the best but dramatic names work, too.
Good chance you will come up with something better than the actual winner Saturday. Uncle Mo may be the favorite. Come on, Uncle Mo? But we do kind of like his stable mate, Stay Thirsty.
Dialed In will be another favorite, which is OK. But what about Pants On Fire? Seriously -- Pants On Fire. If Pants On Fire is the Kentucky Derby champion, it may be the end of racing.
Can you do better? Send as many names as you like -- sports related with no more than 18 characters -- to osogreene@aol.com. Include your first name and initial of your last name plus your location. You have until noon Wednesday and the Top 10 list will run here Thursday.
No, don't send Mr. Ed. It's taken.