It was eminently apparent last Wednesday how Twitter has helped transform product marketing when Denver Nuggets forward Danilo Gallinari sent a tongue-in-cheek message to his followers that played off his Italian accent. The viral video that accompanied his tweet, in which he bluntly seems to offend a reporter in a mock interview, formed the first word on a new dietary supplement produced by Purebrands, LLC called Sheets energy strips.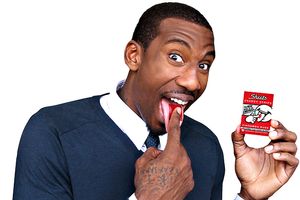 Purebrands New York Knicks forward Amare Stoudemire is really energized about Sheets.
The product, co-founded by entrepreneur Warren Struhl and Marquis Jet Partners co-founder Jesse Itzler, is a caffeine-filled dissolvable strip that gives people an energy boost similar to that of premium coffee. The inclusion of vitamins E, B6 and B12 and the absence of any sugars or calories in the energy strips are intended to give consumers a healthy alternative to sugary energy drinks and energy bars.
"We realized there was an opportunity in the energy category," Struhl said during a phone interview with The Life. The idea for Sheets was formed around November 2009 when Itzler and Struhl began trying to figure out a new delivery system for energy products. Itzler consulted Miami Heat forward and Marquis Jet customer LeBron James for his likes and dislikes of energy products. James was enamored with the dissolvable strip concept; he and his business partner, Maverick Carter, soon became Sheets co-founders. Itzler then went to New York Knicks forward Amare Stoudemire with the idea for his take; Stoudemire called it a "game changer," and he became an investor and early endorser.
Struhl explained Sheets will begin shipping nationwide the third week of May to its launch partner, GNC, and to 25,000 to 30,000 smaller format stores that sell energy products. Baltimore Ravens running back Ray Rice and musicians Pitbull and Drake are also involved as endorsers in what will be a $10 million marketing campaign, according to a media release.