With the NFL lockout in full swing and both sides squabbling, maybe it's time for New York Jets All-Pro Darrelle Revis to put together the TV show he's been wanting to do with his best friend/manager John Geiger.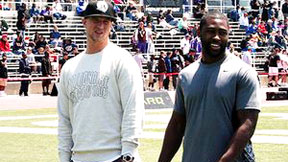 Courtesy of John GeigerJohn Geiger and Darrelle Revis as reality stars? It's not as far-fetched as you think.
"I want to do a show like 'Rob and Big' when they were on MTV," said Revis, talking about the reality TV show that followed the lives of pro skateboarder Rob Dyrdek and his best friend/bodyguard Christopher "Big Black" Boykin in 2006-08. "That's the kind of show I'd want to do. Those guys are awesome. Me and John are like that."
Everyone knows Revis, the all-world cornerback known for "Revis Island." Geiger is Revis' best friend, and they've known each other since childhood days in western Pennsylvania. He's been Revis' business manager for about a year.
"It seems like we've known each other forever," said Geiger, who became friends with Revis while playing on the same AAU summer basketball team. Revis was the point guard, while Geiger was the shooting guard. "We just love hanging out and having fun. And we also do business together."
Geiger handles publicity for Revis, makes travel arrangements and manages his schedule of off-field activities. He also hangs with him at parties and promotional events.
"He's my white chocolate," Revis said.
So with the NFL on hiatus, maybe it's time to consider that show.
"You really need to see the private videos we've already done. They are awesome," Revis said. "I couldn't imagine doing a reality show where you see me doing just everyday things. Who would want to see that? I'd want us to do something, like an adventure."