Supermodel Marisa Miller has some conflicted loyalties going into the Eastern Conference finals.
Miller, a Bulls fan who has attended a few games, became acquainted with point guard Derrick Rose as part of her Victoria's Secret duties last season, when she presented him with his nomination as Chicago's Sexiest Athlete.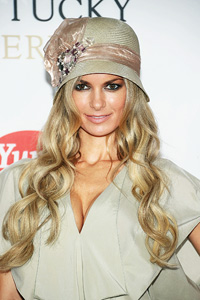 Michael Loccisano/Getty ImagesMarisa Miller at the Kentucky Derby: "There's so much tradition and culture. Especially, being from California I don't have the opportunity to wear hats too much."
"I got to play a little one-on-one," she said of meeting Rose, who was injured at the time. "I actually scored two points, so even though he was injured, I got to have a little bragging rights."
But Miller, who just joined Twitter last Friday, was shocked when LeBron James, who has more than 1.8 million followers but follows only 172 people, started following her.
"I'm still totally new to the Twitter thing," she said. "Then when I saw LeBron following me, I kind of freaked out. Him and Cindy Crawford are the two I was most surprised about. I was kind of Twitterstruck."
Miller, who is doing promotional work for Captain Morgan rum, called Page 2 from Chicago, where she's hosting a party Friday night at the Public House "to celebrate the Captain's 376th birthday." She said she was excited to be in the city as the buzz about the series was starting up.
"I watched the [Bulls-Hawks series-clinching win] last night here in Chicago [on television]. It's going to be interesting playing the Heat," she said. "It's going to be a really good series. I'm excited."
Miller has always been a big sports fan.
"I'm an athlete. I played sports in high school," Miller said. "It was a big part of the bonding time I had with my dad, going to baseball, football games. At this point in my career, I've been able to cross over and be a part of the things I love."
In recent months, she attended the Super Bowl and Kentucky Derby (where she posted this photo of her with Packers quarterback Aaron Rodgers).
Miller's family sports ties run deep. Her parents met at a surfing spot in California, and her grandparents met at San Francisco's Candlestick Park, where they both worked. She's a huge 49ers and San Francisco Giants fan.
"My family, just a huge part of my family gatherings are centered around sports," she said. "I love each of them for different reasons. At every time of the year, I'm always watching something."