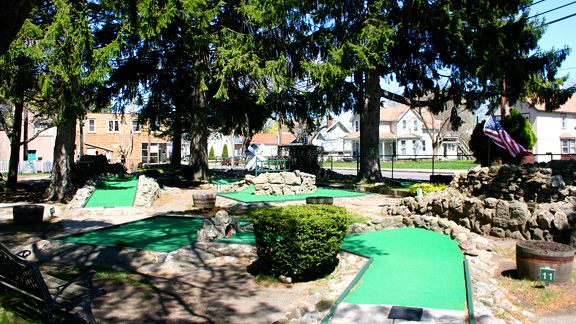 Courtesy of Ryan Whirty Whispering Pines was the first mini golf course on the National Register of Historic Places.
When you think mini golf these days, things such as batting cages and video games are usually part of the deal.
But at Whispering Pines, not so much.
The oldest continually running mini golf course in the United States eschews glitz and glamour. Tucked away in upstate New York, it's a walk down a cobblestone path to a faraway time.
Shaded by -- ironically -- spruce trees, the course, with its gently rolling hills, features a modestly sized windmill complete with slightly peeling paint and cracking wooden planks, and a lighthouse that's a replica of the ones that dot the nearby Lake Ontario shoreline. Whispering Pines is tucked into a working-class neighborhood, and all 18 holes are squeezed onto one-third of an acre.
The clown faces and neon lights -- in fact, all the bells and whistles -- are for the newer mini golf tracks, say the owners, who are aiming to preserve this piece of the past in Seabreeze, north of Rochester.
Whispering Pines, which opened in 1930, was the first mini golf course to earn a place on the National Register of Historic Places.
"I want to live up to the high expectations," said 18-year-old Nick Papas, son of co-owner Jim Papas. "I feel like I can't let this place down."
Jim and his brother, Greg, are doing their part to preserve a "simpler time" -- besides the golf course, they own the adjacent Parkside Diner.
"We bought [the course] just to keep it going another 80 years," Greg Papas said.
That the course survived the first 80 years is something of a triumph itself. Whispering Pines was built at the tail end of an American mini golf boom that was quickly killed by the onset of the Great Depression.
The course opened for the season April 30, giving players a couple of weeks to get in a few practice rounds before National Miniature Golf Day on Saturday.
If the Papas are true to their word, newer generations of putters will be able to time the windmill blades just right for decades to come.