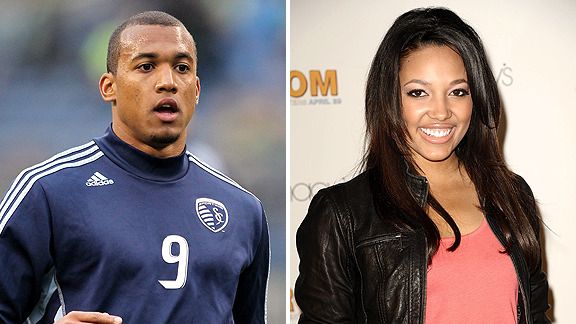 Getty ImagesTeal Bunbury is a striker for Sporting KC, while sister Kylie starred in Disney's "Prom."
The sister tells a story about a brother who grew up so determined that he would tell friends who would come over that he couldn't play. Instead, for hours, he would kick his soccer ball against a wall.
"He was that kid," she says.
The brother tells of a sister who tried to turn every family gathering into a Broadway production -- with herself as its star. She would sing. And sing. And sing.
"It came to the point when I was annoyed," he says.
He laughs. Look at them now.
Teal Bunbury is 21. His sister Kylie is 13 months older. Here they are, both hitting it big.
Teal is a striker with Sporting KC and is considered such a comer with the U.S. national team it was a stunner when he didn't make the Gold Cup roster this week.
"He's the most thrilling person to watch on the field," Kylie says. "Of course, I'm biased."
Meanwhile, she had a featured role in the Disney movie "Prom" (she's the pretty one, Teal says). And she has a comedy coming out this summer with Jonah Hill (the big dude from "Superbad").
It seems the only time they're not humble is when they're bragging about each other.
Teal plays for the same MLS team their dad, Alex, did. The elder Bunbury famously put the kid through the paces after Teal told his dad about wanting to go pro, too.
She didn't know it then, Kylie says, but watching her brother's work ethic growing up showed her what she needed to do to make it, too.
They were close. Still are. They can see similarities in their career arcs. They talk about having heart and staying grounded, about being determined and mentally tough.
Teal missed Kylie's first movie premiere. He had a game.
"He told me, 'There will be plenty of premieres for me to go to, Kylie.'"
He's her brother. He knew just what to say.