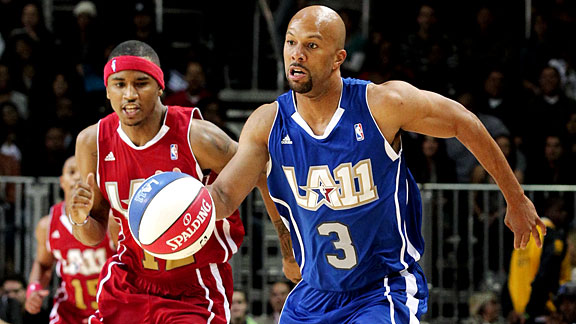 Noel Vasquez/Getty ImagesCommon, right, grew up playing point guard on Chicago's tough streets. He says that experience contributed to his competitive drive in the music business.
Grammy-award-winning recording artist Common has used his music to illustrate the rugged streets of Chicago's South Side, where he matured in the '90s during Michael Jordan's championship reign. Lyrics in songs like "The Corner," reveal a deep story of the urban culture that groomed NBA MVP Derrick Rose and seven-time NBA All-Star Dwyane Wade. These three Chicagoans grew up separately but were influenced by the winning force that emanated throughout the city from the Chicago Bulls.
Since boyhood, Common has journeyed from the streets of the South Side to perform for President Barack Obama and star in multiple films, including "Just Wright," in which the rapper portrays fictional NBA player Scott McKnight. No matter how high his star rises, Common continues to wear Chicago on his back, dedicating songs like "Chi-City" and "South Side" to his hometown.
With his love for the Windy City, it's no surprise the lyricist is ecstatic to see the Bulls competing for the Eastern Conference title against the Miami Heat. However, with a Chicagoan guard at the helm of each team, Common finds this series isn't as simple as cheering for the home team.
espnW caught up with Common between takes for his next project, the TV drama "Hell on Wheels," which will premiere on AMC this fall.
espnW: With native Chicagoans Derrick Rose and Dwyane Wade on opposing teams, which team are you rooting for to win this series?
Common: I'm a Chicago Bulls fan, so I'm always going to roll with the home team. I love Rose and what the Bulls are doing this season. But I have to say, I have love for my man Dwyane Wade, too, because he is a Chicago homeboy, so it's hard to make a choice.
espnW: So, you still have love for Wade?
C: Oh yeah, for sure. He came from Englewood, and was raised in one of the toughest neighborhoods in Chicago. He is Chicago all the way. We actually just combined our foundations and did something for the Lighthouse Youth Center on the South Side of Chicago. Wade represents Chicago well. …