INDIANAPOLIS -- Growing up in a military family, Tanner Foust -- a three-time X Games gold medalist and professional stunt driver -- would take his Hot Wheels cars from move to move.
"Who doesn't remember as a kid grabbing that car and making a noise while you flew it in the air?" said Foust, who also is a two-time Formula Drift champion, "So today, I guess I took what you could do as a little kid and made it come to life."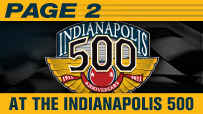 Foust, who was a stunt driver for the movies "Dukes of Hazzard" and "Fast and Furious: Tokyo Drift," on Sunday successfully landed a ramp-to-ramp distance jump of 332 feet in the infield of the 100th anniversary of the Indianapolis 500. That smashed the previous world record by 31 feet.
The four-wheel, Pro2-style truck with an 850-horsepower engine and weighing more than 3,000 pounds took about 7 seconds to go down the orange-painted wooden track replicating the plastic one kids use. The wind was slight, and the track was thankfully dry.
"It was an awesome feeling. As a kid, I could only dream of experiencing something as outrageous as this," said Foust, who went about 104 mph down the ramp. "I always wanted to do something that broke new ground."
Hot Wheels began in 1968 as a kids' toy company producing die-cast vehicles. Today, besides the car line, the company has apparel and now Team Hot Wheels, a real-life race crew of professional drivers performing over-the-top stunts, such as the one before the Indianapolis 500.
"We wanted to come up with something that would engage a whole new audience," said Simon Waldron, vice president for Hot Wheels. "We know we have boys from age 3 to 8. We wanted to get the older audience interested in the brand again."
So, how about a driver doing a real-life corkscrew on a track?
"We have a whole test facility trying out new things," Waldron said. "We're just getting started. We're experimenting with things all the time."