A professionally graded perfect copy of Michael Jordan's 1986-87 Fleer rookie card sold for six-figures recently in a sale brokered by a California auction house.
The card, which was graded a Pristine 10 by Beckett Grading Services, fetched $100,000 when it was sold by Memory Lane Inc. earlier this month to a private collector on the West Coast.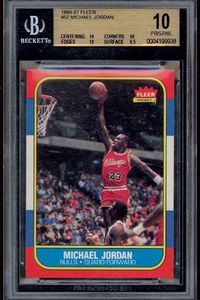 Memory Lane Inc.A perfect Michael Jordan rookie card is sold for $100,000.
What makes this card so special? There are just three copies of the famed card graded as a BGS 10 out of more than 5,500 cards that have been submitted to the company for examination. Cards with poor centering, miscut edges, printing spots, rough edges or damage through the years will not receive a 10, instead a grade somewhere between a 1 and a 9.5 before they are permanently placed in a tamper-proof case.
"It was the first time we had the opportunity to sell the card, and we are really happy with the sale," Stephanie Evans of Memory Lane told Beckett Basketball magazine. "It's a landmark modern sale for us, and it just goes to show that when you have something as rare as a Beckett 10 come available, the demand still warrants six figures."
The Jordan card is one that is always in demand -- so much so that it has been counterfeited often in the past and professionally graded cards help online buyers weed out the fakes. High-grade copies have taken the card's potential value to new heights as a Jordan in "raw" ungraded condition go for about $600 or less. However, a graded card with an 8.5 or higher will often sell for $1,000 or more with the higher grades commanding dramatically higher figures. For example, the first card to receive a BGS 9.5 grade sold for $77,600 in June 2003.
Collectors can look up population reports to know precisely how many copies of a card have received a particular grade. There were thousands of Jordan rookie cards made -- but few that are free of any imperfections or damage from handling.
The last known BGS 10 Jordan sale came in August 2009 when a collector paid $82,000 for this same card. It was the first to receive a 10 grade from BGS, which is the authentication division of Beckett Media.
The Jordan RC is not the only high-profile BGS 10 of a 1980s icon to sell for big bucks in recent years. A Joe Montana 1981 Topps rookie card sold for $65,880 in April 2009.