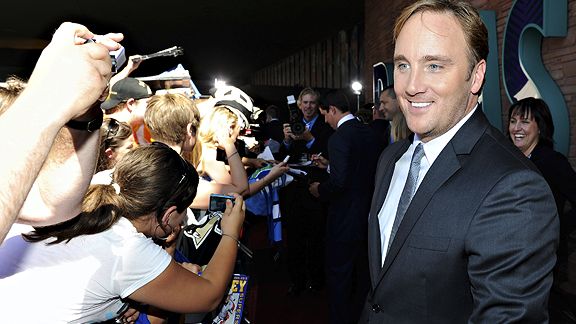 Ethan Miller/Getty ImagesJay Mohr is back as host for the NHL Awards at the Palms Casino Resort on Wednesday.
Maybe actor/comedian Jay Mohr is mellowing.
With the recent birth of his son, Meredith, and his new job blogging about the "Real Housewives of New Jersey" for the Bravo Network's website, Mohr doesn't seem like a foul-mouth comedian anymore.
When asked how many jokes about the post-Stanley Cup Vancouver riots he'll use hosting the 2011 NHL Awards Show (7 p.m. ET) in Las Vegas on Wednesday, the 40-year-old Mohr took the high road.
"I'm very sensitive to the league and I know they don't want me to make that big of a deal of it. I think I have a couple," Mohr said reluctantly and then quipped: "Or maybe it's because I wasted all my good jokes on the 'Tonight Show' last week ... "
Mohr, who grew up in New Jersey, never claimed to be an athlete -- "I was woeful in the skill department" -- but loves the NHL. He was invited back as host of the NHL show, which honors the best in hockey and will include live performances by country music star Dierks Bentley and electro pop group Far East Movement.
"In my stand-up, I have no sports jokes, so that's why I love doing these kinds of shows," said Mohr, who has hosted the NASCAR Awards and events for the NFL players' association. "My entire act is thrown out the window and I just start writing. Let's see, the city of Vancouver is the least likely ... "
Finalists for some of the NHL's top honors
Hart Trophy: The finalists for NHL MVP are Anaheim's Corey Perry, Vancouver's Daniel Sedin and Tampa Bay's Martin St. Louis.
Vezina Trophy: The finalists for the top goaltender are Boston's Tim Thomas, Nashville's Pekka Rinne and Vancouver's Roberto Luongo.
Norris Trophy: The finalists for best defensemen are Boston's Zdeno Chara, Detroit's Nicklas Lidstrom and Nashville's Shea Weber.
Rookie Award: The finalists are Carolina's Jeff Skinner, San Jose's Logan Couture and the New York Islanders' Michael Grabner.
Coach of the Year: The finalists for the Jack Adams Award are Pittsburgh's Dan Bylsma, Nashville's Barry Trotz and Vancouver's Alain Vigneault.