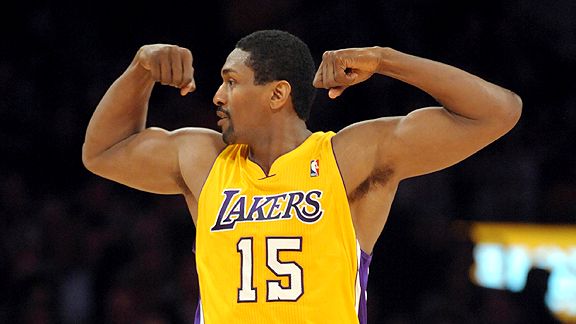 Kirby Lee/US PresswirePage 2 suspects that Ron Artest considered other names before settling on Metta World Peace.
Lakers forward Ron Artest reportedly plans to change his name to Metta World Peace.
Metta can be defined as loving kindness or gentle friendship in the Pali language, which is spoken in India and southeast Asia. So it's difficult to argue against the positive sentiment behind Artest's decision.
However, Page 2's dubious network of sources reports that Artest considered a number of other names before settling on Metta World Peace. Here's what they revealed:
Tru Warier: Embracing this pre-existing nickname could potentially renew interest in his fledgling record label of the same name.
The Artest Formerly Known As Ron: He has experience in the music industry, so why not take a cue from a legendary artist?
Queensbridge Reppin' Loose Ball Divin' Rock Stealin' Ron Artest: Tested well in focus groups. Merchandising gold.
firemikebrown.com: Might as well get out in front of this one.
Ron Unocinco: A tip of the cap to a somewhat conspicuous Bengals wide receiver.
Metta Flagrant Foul: A mixed metaphor such as this will dumbfound, and possibly inspire, people from all walks of life.
Trade Steve Blake: Just as "Metta World Peace" makes a statement, so would this -- namely, that it's unfathomable and highly irresponsible for any self-respecting NBA franchise to pay Blake $4 million per year.
Smush Artest: Could there be any better way to temper expectations of an aging roster among Lakers fans?
Best Buy Artest: He probably could qualify for the coveted employee discount, without actually having to work there ... which he attempted to do after being drafted by the Bulls. Seriously.
World B. Hennessy: We'll drink to that.