He still has the itch.
But Tyler Hoechlin thinks he has made the right decision giving up his baseball career to star as Derek Hale on MTV's "Teen Wolf," which debuted last month on Mondays.
Hoechlin, 23, had been balancing baseball and acting since he was 9 years old growing up in California.
At 13, he had a role in the movie "Road to Perdition" and then appeared on TV's "7th Heaven." He then passed over some roles to play high school ball.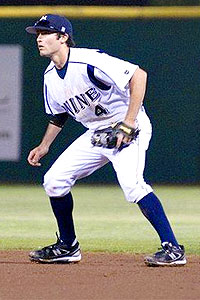 Courtesy of University of California-IrvineTyler Hoechlin traded in his college baseball uniform for a role in MTV's "Teen Wolf."
When it was time for college, he went to Arizona State University to play infield and then transferred to UC-Irvine.
Acting was always there, too.
"I even turned down a role in the movie 'Twilight,' " he said. "Because of baseball, I was putting acting on the backburner."
Then fate stepped in. He got hurt playing baseball, and Hoechlin's coach basically told him he needed to choose either acting or baseball.
"It was like an answered prayer. It was like the decision was made for me," he said. "I wasn't going to quit until someone told me to stop. He said I needed to spend time and put more focus on what I wanted to do."
Now, as a breakout star on the popular MTV show, Hoechlin loves acting again.
"It's been great. The cast and crew, we all get along. We come together on Mondays to watch the show," he said. "It's been a lot of fun. And it's great that people are backing the show."
But, Hoechlin still misses the game.
"I have this massive itch. I play a little in my brother's summer ball league," he said. "I've actually looked at the 'Teen Wolf' shooting schedule to see if I can play more."
And if he's asked to appear in a "Twilight" sequel?
"''No, thank you' is what I'd say," Hoechlin said.