PLYMOUTH, Mass. -- Asked Wednesday before the start of his second annual celebrity golf tournament whether he is a big golfer, former Boston College linebacker Mark Herzlich let loose a hearty laugh.
"I am a big golfer, about 6-4, 250," he said, "but I'm not a good golfer. I'm not very good, but I don't really care. I have fun with it."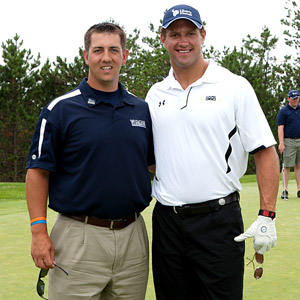 Tom Lakin Uplifting Athletes founder Scott Shirley, left, with former Boston College linebacker Mark Herzlich.
That was the goal at Pinehills Golf Club in Plymouth on Wednesday, as notable New England stars gathered with weekend warriors for the Liberty Mutual Invitational to benefit a charity called Uplifting Athletes and, as Herzlich said, "to raise awareness for the continued fight against Ewing's sarcoma," the cancer that changed his life just two years ago.
Uplifting Athletes began in 2003 after Scott Shirley, a Penn State junior football player, received the news that his dad had been diagnosed with kidney cancer. Doctors gave him just six months to live.
Shirley and his mother called on various national cancer organizations for help, only to learn that because kidney cancer is considered a "rare disease" it, along with thousands of other diseases like it, lacks significant fundraising to help with treatment or a cure. Starting Uplifting Athletes with his Penn State teammates was Shirley's solution.
Shirley's father died in 2005, but the charity has since raised more than $500,000 for kidney cancer research and has expanded to nine national chapters, including one at Boston College, which raises money for Ewing's sarcoma in honor of Herzlich by hosting events, such as Wednesday's golf tournament.
"Mark's story really brought a lot of attention to the challenges that people with rare diseases face," Shirley said. "We hope to honor Mark by having the same impact at BC for Ewing's sarcoma that we did for kidney cancer at Penn State."
NESN's Jayme Parker helped organize the event, which counted participation from big local names, including Red Sox general manager Theo Epstein, Bobby Orr, Jim Rice and Tedy Bruschi.
Orr set the tone for the day on the first tee, saying, "You guys paid a lot of money to play today -- you don't have to play by the rules!"