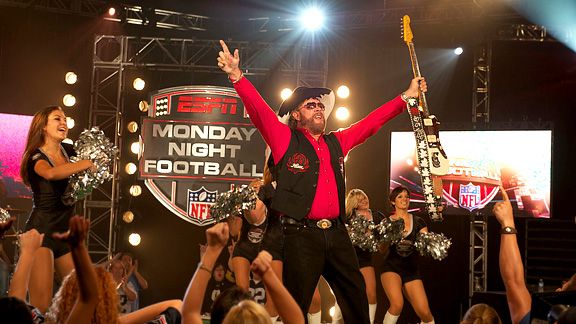 Steven Johnson Hank Williams Jr. taped the intro for his 23rd season on "Monday Night Football" on Thursday.
WINTER PARK, Fla. -- Hank Williams Jr. was ready to talk football on Thursday and declared the NFL lockout near its end.
"I think the deal is done," he said. That's good news considering he was at Full Sail University shooting the 1-minute, 20-second "All My Rowdy Friends Are Coming Over Monday Night" video that kicks off ESPN's "Monday Night Football" telecast.
"You can't keep on," he said of the lockout, "or you're going to keep alienating the fan base. While they're at it -- remember the older players who can't walk."
Williams -- who begins his 23rd season Sept. 12 -- has been on Mondays longer than Howard Cosell, Al Michaels or even "Gunsmoke."
"It started as a one-year deal," Williams said. "We said 'Let's try it out.'"
Bob Toms, ESPN's vice president of production enhancement and creative services, has worked with Williams since he became associated with MNF in 1989.
"It's a year-by-year thing. We keep asking and he keeps saying yes," Toms said. "We've had him on boats, planes, in space and even in the president's office where we had his hand on the button."
A devoted Steelers fan, Williams said he "knew they were going to lose" to Green Bay in the Super Bowl. He also blasted James Harrison in light of recent quotes in Men's Health about commissioner Roger Goodell and others. "If Bill Cowher was there … I could tell you what would happen. You're out of here," Williams said. "I'd stand by for a message on that whole situation. They [the Rooneys] have never tolerated that kind of stuff. "
Among the estimated 70 production staff, 30 Full Sail faculty, 20 student assistants and 200-300 extras at the shoot -- which began at 10 a.m. and lasted all day -- was five-year Navy veteran and Saints fan Mike Dominguez, a 24-year-old film student, complete in his Drew Brees jersey. A year ago, Dominguez was aboard the submarine USS Columbus in the Pacific Ocean.
"This is a dream come true," he said. "I grew up watching 'Monday Night Football.'"