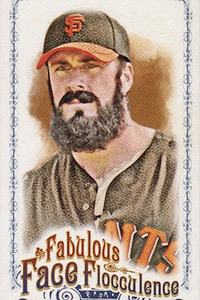 ToppsGiants pitcher Brian Wilson's beard now has its own trading card.
It's official. The Beard has its own baseball card.
The walking sideshow that is San Francisco Giants closer Brian Wilson can arguably be attributed largely to the beard which has been honored by having its own card in a set released by Topps this week.
As part of its Allen & Ginter baseball set, a product based on 1880s tobacco cards of the same name, there are 10 Fabulous Face Flocculence cards to be found.
On these cards are showcased several types of beards -- The Darwin, The Bib, The Lincoln, The Goat-Patch,The Neckbeard, Thunderchops and, of course, the one that perhaps matters most to MLB fans these days.
What's its name?
The Closer.
Even crazier? The card has sold for as much as $19.50 on eBay.