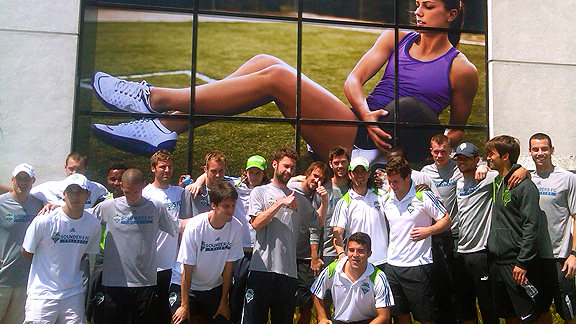 Seattle Sounders The Seattle Sounders were in Los Angeles and posed in front of the photo of Alex Morgan.
Sorry, guys.
Alex Morgan, one of the stars for the U.S. in the Women's World Cup, is in a long-term relationship with Major League Soccer player Servando Carrasco and won't be able to marry you.
That's heartbreaking news to the thousands of people who have been posting on Morgan's Facebook page, which has about 150,000 fans.

Servando Carrasco has been dating Alex Morgan for about four years.
"Do you want to be my wife?", "Marry me, Alex.", "Please Marry me....."
The 22-year-old Morgan of Diamond Bar, Calif., who stopped by ESPN's offices Tuesday along with teammate Hope Solo, took it all in stride and laughed off those proposals.
Morgan and Carrasco, who was born in Mexico and plays for the Seattle Sounders, have been dating about four years after meeting at the University of California.
Morgan knew that Carrasco couldn't attend her championship game against Japan in Germany over the weekend, but was still wishing: "I was even hoping up until the last day!"
But, she added, "To be honest, I think he feels the same way as I do when it comes to our team. We have to put our personal lives on hold for our careers right now."
And that photo above? That's when the Sounders were in Los Angeles and saw Morgan's photo outside a Sports Authority.
"That photo is so funny, but I really feel bad for him," Morgan said. "All his teammates were making fun of him."
Now Morgan will go back to her life as member of the national team with sights set on the Olympics and also as a member of the Western New York Flash of Women's Professional Soccer.
And on the topic of how the women did in the finals?
"I think people who say we choked are just ridiculous. We don't have any regrets but we know we didn't play our best soccer in the finals," Morgan said. "But if there was anyone we wanted to beat us, it would be Japan. Both of us deserved it but only one of us can win."