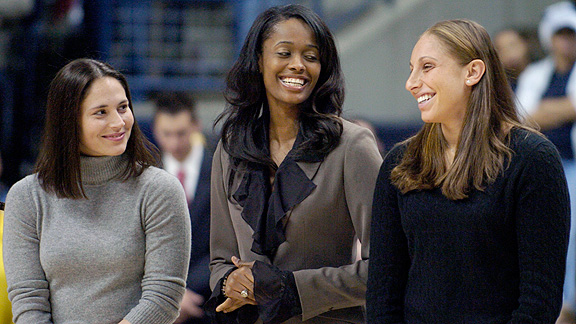 AP Photo/Jessica HillFormer UConn stars Sue Bird, Swin Cash and Diana Taurasi are starting in the WNBA All-Star Game.
Saturday is the WNBA All-Star Game in San Antonio, but it will be more like a University of Connecticut family reunion.
For the Western Conference, four of the five starters -- Swin Cash (2002), Maya Moore (2011), Diana Taurasi (2004) and Sue Bird (2002) -- played for the Huskies. On the Eastern Conference side, Tina Charles (2010) is starting and Renee Montgomery (2009) is a reserve.
Page 2 had a chance to catch up with Bird, who has won a championship with UConn, an Olympic gold medal and a WNBA championship. Even though she's been playing for the Seattle Storm since 2002, she still has a Connecticut cellphone number.
1. It's like going home this weekend to see your family, right?
Yes, it is! I think it speaks to the kind of player that coach Geno Auriemma and his staff recruit and also how he works with us once we are there. We not only get better but we are well-prepared for the next level.
2. What does this weekend mean for you?
It means a lot to be selected but it really is a celebration for the fans. It's a chance to have the league's best on display and hopefully put on a good show. For me, I also like catching up with the other players and playing with them.
3. You were born and raised on the East Coast, so what's life like out in the Northwest?
Life is good. I miss the East Coast a lot because that's where my friends and family are, but I have a life out in Seattle now, as well. I have a home, and, after living here for 10 years, I've really come to love it.
4. Not saying you need to think about it now, but you're 30. What else is on your bucket list?
Isn't that the kind of question you ask Jack Nicholson or Morgan Freeman?
5. No, seriously! There has to be something?
I haven't even thought about it!