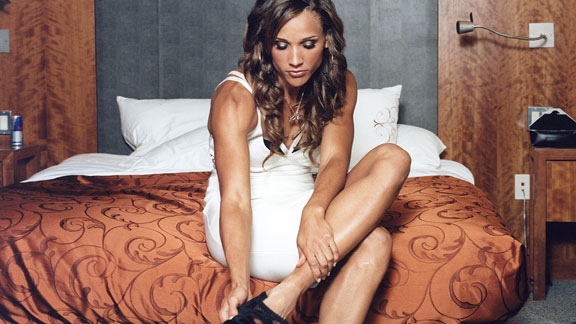 Caroll TaverasWhat better way to find true love than a race against the clock?
This story appears in the Aug. 8, 2011 issue of ESPN The Magazine.
OCCUPATION: Hurdler
IN SEARCH OF: Single male within two time zones of Baton Rouge
IF YOU'RE A FAN of Lolo Jones, you already know she's single. The U.S. record holder in the 60-meter hurdles doesn't demur when discussing her struggles in finding a guy. Heck, she isn't ashamed to tell the world (@followlolo). "The more I go on these horrible dates, the more I'm convinced that being the 50-year-old cat lady might be a good look," the Olympian once tweeted. (FYI, fellas: She scans followers on Twitter and has even gone out with a few.) Sure, Jones' odds of landing Mr. Right on a speed date aren't as good as her chances of winning her first medal at the 2012 Olympics. But when The Mag suggested sampling a New York Easy Dates event at Manhattan's Nirvana, she didn't hesitate to let fate take over. On the Thursday night before June's Adidas Grand Prix, Jones cleared her schedule for a stylist, makeup artist and hair stylist to prep her at the Le Parker Meridian hotel. "I already have a leg up," Jones says. "I doubt any of the other girls have their own stylists." Sadly, she didn't end up finding her soul mate. But she did walk away with three valuable lessons in love.
1. Jones' favorite aspect of speed dating? "They have to talk to me," she says. Even though these bachelors don't have time to be shy, average Joes fear that the two-time-defending indoor world champ won't pay them any mind. What about stars? "I've talked to everyone from A-list celebrities to top athletes," she says. "Pros have courage, but they deal with the emotional roller coaster of their season; it's hard to deal with mine too."
2. The men are playing games -- literally. "One guy began his first sentence with an A and made me start with a B and so on," Jones says. "I've got five minutes to figure out if I want to see them again. Maybe that's why I'm single -- I go straight to subjects you're not supposed to talk about. Do you go to church? [Jones' answer: yes.] Republican or Democrat? [Independent.] Do you want kids? [Yes.]"
3. "A lot of them were disappointed I don't live in New York," she says. Still, the former LSU standout faces the same obstacle in Baton Rouge. "I'm home about as often as I'm here," says Jones, who ran in 10 countries last season. "It was raining, though, so who knows. Maybe my guy didn't show up. I'll just keep looking."