Americans love Super Couples.
So are tennis superstar Caroline Wozniacki and golf superstar Rory McIlroy the next one?
No so fast ...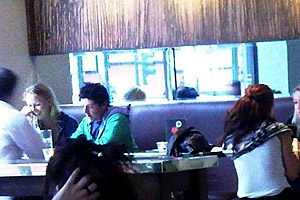 Courtesy of omes_tennis on TwitterCaroline Wozniacki and Rory McIlroy share dinner in July in London, fueling all these rumors.
Wozniacki, 21, and McIlroy, 22, were spotted eating together at All Bar One on July 17 in London and the rumors took off.
"I'm sort of used to the paparazzi, but not from someone sitting in the restaurant!" Wozniacki said Friday while visiting ESPN's offices. "This tennis blogger was sitting a few tables away from us and snapped a photo to post on Twitter. And that's how all this started."
The dinner came just a few days after Northern Ireland's McIlroy had broken up once again with Holly Sweeney, whom he had dated off and on for four years. That further fueled speculation.
"I know this is all part of the game I'm in," said Wozniacki, who comes from a family of athletes in Denmark, "but there has to be more important things in the world to talk about!"
It also didn't help when Wozniacki asked McIlroy via Twitter about his tennis game. He responded: "It needs a lot of work. Do you know anyone that could help me!?;)"
And she replied: "I might know someone;) I've seen the forehand its good; the backhand needs some help though;) haha."
So the talk is out there -- even though they are just friends -- and it'll get worse in the coming weeks at the U.S. Open in New York, Wozniacki's favorite city.
"Social media is so interesting to me because I now have to realize that people will scrutinize everything I say on Twitter," she said. "I have to remember that sometimes when I write something I can't take it back!"
And have she and McIlroy talked about all this hoopla?
"We couldn't believe how much it spread just by that one photo," she said. "We just talked and laughed about it."
And, what would Wozniacki be if not a tennis player?
"I'd like to be an actress. Could you see me as a Bond girl?" she said. "You know I live in Monaco, right?"