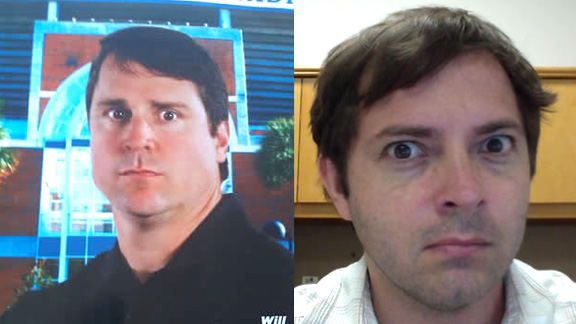 Courtesy
muschampstare.tumblr.com
Gators fan Bruce Floyd, right, started a site for fans to emulate Florida coach Will Muschamp's stare.
New Florida football coach Will Muschamp is intense.
He became a YouTube star for his sideline excitability while he was an assistant coach at Auburn and Texas, sometimes yelling words that aren't safe for small children.
But his Internet fame rose to new heights with regards to one of his first official acts as Gators coach. The school's 2011 football poster featured some football players, an alligator and Muschamp. And Muschamp's steely gaze.
The coach's intensity was even a bit much for his wife, who admitted she didn't like the look.
But Gators fans love it.
Bruce Floyd, in particular. The 38-year-old "umpteenth generation Gator" loved the look, and even pondered if he could approach the coach's aura of intimidation.
"He managed to convey a kinetic energy in a still poster," Floyd said. "It got me fired up and I thought, 'let me see if I can match this.'"
He sent it around to some friends to see if they could pull it off. And the end result became Muschamp Stare, a blog on Tumblr in which people can send in their renditions.
It's been done by men, women, entire families and cats.
Floyd, who actually works for Florida as the university's social media specialist, just created the blog on a lark after his friends had fun with the idea. Tumblr sites are free, and the domain name only cost him $7, so it was just an after-hours labor of love.
"It's a new era for Gator football," Floyd said. "We don't know a lot about the coach, but what I've seen thus far is he's very excited and very intense. And I'm really excited about his excitement."
He said he's hoping Muschamp doesn't lose any of that excitement in his first gig as a head coach.
Muschamp, for his part, told Page 2 in April he'll still be the same guy.
"I'm gonna be me on the sideline. I don't know, everybody seems to think that now that you're a head coach, you've got to be reserved and calm, and you're not allowed to have fun," Muschamp said. "I'm gonna have fun. That's why I coach. I enjoy the arena."