Shortly after Zach Veach began racing go-karts a few years ago, he won a race and proudly wore the podium hat to school.
That is, until the football players threw it in the trash and doused the cap in milk.
A month later, Veach left school to pursue a burgeoning racing career. And these days, those same bullies are vying for Veach's attention, trying to reconcile with the 16-year-old racing prodigy instead of shoving him into lockers.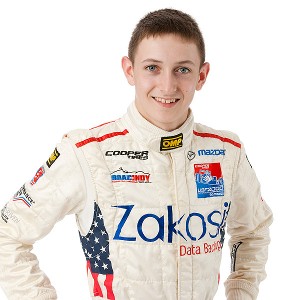 LAT/Mike LevittZach Veach, 16, jokes that he still looks like a 12-year-old boy.
Because who wouldn't want to befriend the Andretti Autosport driver with a published book, his own anti-texting app and Danica Patrick for a teammate?
"It really pushed me harder to be what I am today, because those kids were acting like I was dreaming of doing something silly," said Veach, the USF2000 Winterfest champion. "It's really helped me along, because I've been in other kids' shoes who have had those same problems."
Seemingly frivolous pipe dreams born from watching the Indy 500 on TV with his father at age 5 have evolved into reality for Veach, who recently released his book, "99 Things Teens Wish They Knew Before Turning 16" in March and is a national anti-distracted driving spokesman.
The advice book for teenagers, which addresses everything from bullies -- "Retaliation is never a first answer, because that doesn't get you anywhere" -- to chatting up girls -- "Right now, I still have the look of a 12-year-old and I'm only 5-foot-2" -- itself may have been written by a teenager, but Veach's experience on the racing circuit has made him wise beyond his years.
"When I first started driving for Michael Andretti's team, I was 15 and got a lot of questions about what advice I would give to kids my age," Veach said. "After I answered the question a lot of times, I thought why not just make a book to help kids on their journey and get them closer to their dreams?"
Veach has always felt better connected to adults, a natural feeling given his dealings with sponsors and fellow racers. But Veach, who aspires to win the Indianapolis 500 and create a video game somewhere along the way, insists on maintaining that small-town humility often lost on fellow child stars.
"I live out in the country about 45 minutes to the closest grocery store, surrounded by family, trying to work hard to get to a place that I've dreamed about since I was little," Veach said. "I'm not any different than the average 16-year-old."
Except for the fact that he's legally allowed to drive hundreds of miles an hour -- and get paid for it.
"Yeah, that's a little exception."