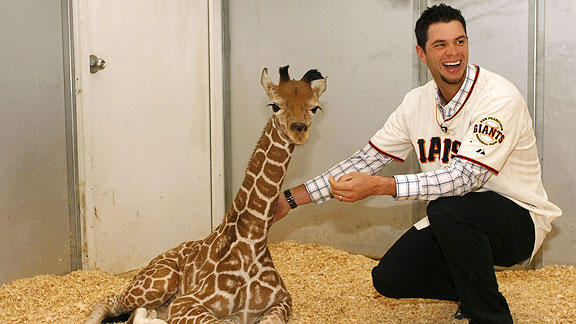 San Francisco Giants Brandon Belt and Brandon the giraffe get some quality time to catch up on Thursday in Vallejo, Calif.
San Francisco Giants first baseman Brandon Belt hit a big major-league milestone recently, earning his first nickname, "Baby Giraffe," from Comcast SportsNet Bay Area broadcaster Duane Kuiper.
The moniker is already paying dividends: Six Flags Discovery Kingdom, in Vallejo, Calif., has named its newborn male giraffe calf Brandon, after the rookie.
The 6-foot-2 calf will eventually grow to upwards of 18 feet in height, with a neck that can be at least 7 feet in length.
On Thursday, Belt got to meet his namesake. We have to say, the resemblance is uncanny.
"This morning has been one of the best mornings of my life," Belt said. "To have a newborn giraffe named after me, let alone me standing side-by-side him, it's amazing."