Conference realignment makes for comedy fodder for Rice's Marching Owl Band.
The irreverent group known as the MOB turned heads Saturday by spelling out "$EC" during halftime of Rice's 34-9 loss to Texas in Austin. Photos of the formation went viral.
It's a dig at Texas A&M for bailing out of the Big 12 and likely moving to the SEC. But it can also be read as a statement on college athletics.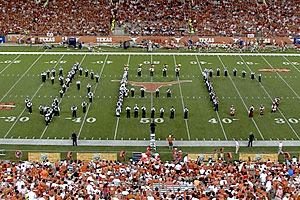 Rice's Marching Owl Band likes to make a point, such as this formation at Texas' stadium on Saturday.
"Topical humor is certainly something we do a lot of," says MOB director Chuck Throckmorton, 47. "It was really an Aggie reference, but once it's out there, people can draw their own conclusions. What we were heading for is it's a pretty odd development that amateur athletics has become all about money."
There's a long, quirky history of the MOB using satire to jab at competitors and crack up fans. Some highlights, courtesy of the MOB's site:
• "BROpocalypse Now," a spoof of SMU's collar-popping preps in 2010.
• "Book 'em Horns," when a string of incidents by Longhorns players inspired a Dragnet crime spin in 2007.
• "Todd Graham's Inferno," a Divine Comedy-style roasting of the former Rice coach in a game against Tulsa in 2007.
In 1973, the MOB mocked two A&M institutions: the Aggie Band's military style (the MOB goose-stepped in imitation) and collie mascot Reveille (forming a fire hydrant while playing "Oh Where, Oh Where, Has My Little Dog Gone?"). Aggies fans were not amused. Theories still circulate that the mascot bit was to mock the death of Reveille.
"Reveille was there," says Throckmorton. "That has grown into a huge urban legend."
The MOB certainly seems to enjoy gigging their former Southwest Conference foes. During Saturday's show, the band took on Texas Gov. Rick Perry (a proud A&M grad) and his presidential bid. The announcer declared, "The next time you go to the polls, ask yourself: Is your candidate smarter than an Aggie?"
The MOB will take on a sacred cow "wherever we find it," says Throckmorton. "The thing about A&M is everything is sacred there. It's sort of a match made in heaven."