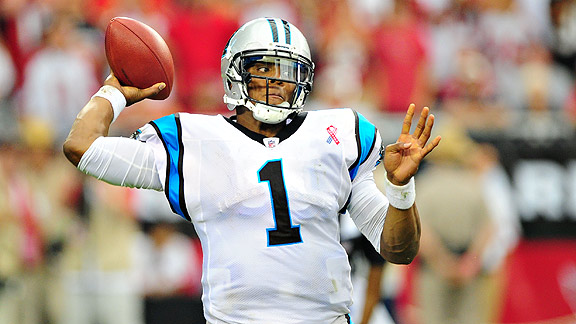 Mark J. Rebilas/US PresswireCarolina quarterback Cam Newton threw for 422 yards and two touchdowns on Sunday.
Call it Newton's Law: After his Cam Newton's record-breaking debut performance on Sunday, sales of his jersey are reportedly spiking.
Meanwhile, jersey sales for another highly touted young quarterback, Tim Tebow, are plummeting.
To a certain extent, this is a matter of apples and oranges. For one thing, Tebow isn't a starter and isn't getting much face time in the media these days. For another, a lot of fans already bought Tebow jerseys last year, while Newton jerseys have only been available for a few months, so there's a greater potential untapped market for them.
But here's another factor to consider: Newton wears uniform No. 1 -- very unusual for a quarterback. Sure, there have been a few exceptions (Warren Moon, for example), but the closest most quarterbacks get to a No. 1 jersey is during their NFL Draft photo-op.
No. 1, of course, has a little extra juice, so Newton's jersey carries a bit more emotional oomph that a typical quarterback's jersey. It's not clear if that's affecting his jersey sales, but it's worth pondering what this could mean if Newton ends up becoming a major star. Will it have a ripple effect? Could we see more signal-callers wearing No. 1? And if so, what will kickers start wearing? I'm not sure the NFL is ready for a bunch of pint-sized players wearing No. 12.