Sacramento Kings guard Tyreke Evans returned to his hometown of Chester, Pa., on Tuesday to work with VSP Vision Care to provide free eye exams and glasses to thousands of children.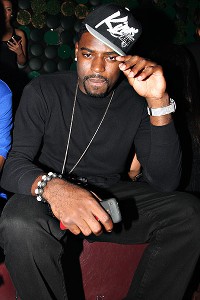 Johnny Nunez/Getty ImagesTyreke Evans has spent the past few days in Pennsylvania eating some home cooking. "Even after dinner last night, I asked for a to-go plate."
"I'm so glad to be home to see my friends and family. I thankfully have 20-20 vision, but a lot of kids do not," Evans said. "So I love getting these opportunities to give back, especially in my hometown."
Evans, who grew up here and played college basketball at the University of Memphis, is spending a few days before heading back to California to continue working out with the hopes of the NBA lockout nearing an end.
"When will it be over? I'm as clueless as the people asking me that question," said Evans, who was the NBA Rookie of the Year in 2010. "I'm trying to explain it to them as well as I can. They think I know something, and I don't. Even my cousin just asked me that question."
To improve his game, Evans has been working out lately with Chicago Bulls point guard Derrick Rose and Oklahoma City point guard Russell Westbrook in Santa Monica, Calif.
"It's been a big dream of mine to play in the NBA and I'm not going to give that up, so I'm working on my game every night," said Evans, who saw his scoring drop this past season to 17.8 points from 20.1 points a game. "It takes a lot of hard work and I hope it will pay off for me."