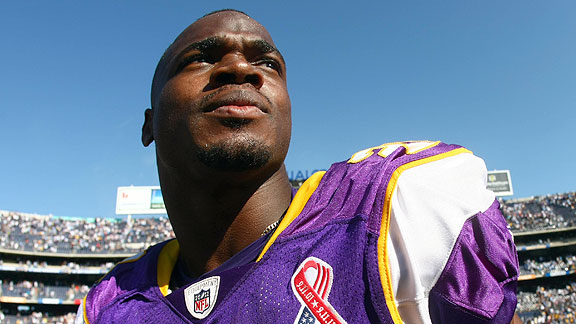 Donald Miralle/Getty ImagesAdrian Peterson will donate money to charity for each touchdown he scores this season.
Minnesota Vikings running back Adrian Peterson, along with actors Ashton Kutcher and Demi Moore, announced Saturday that they are joining forces through their foundations -- Peterson's All Day Foundation and Kutcher/Moore's DNA Foundation -- to launch Football For Good, a campaign designed to create awareness and raise funds for community programs for at-risk youth and to fight human trafficking of minors.
"People always talk about all the money I make, but the bigger cause for me is to do God's work," said Peterson, who last week signed a contract extension that could be worth $100 million over the next seven years. "I'm no angel by any means, but I know I'm put here to make the world better. I want to change the course of people's lives."
Peterson is jump-starting the fundraising with a commitment to donate $5,000 for each touchdown he scores this season. Kutcher/Moore will match that donation. Other players who have also committed donations for their touchdowns include the Chicago Bears' Roy Williams, Cincinnati Bengals' Jermaine Gresham, Indianapolis Colts' Dallas Clark, Philadelphia Eagles' DeSean Jackson and Oakland Raiders' Michael Huff (for each interception). Boxer Victor Ortiz also will make a donation for each Peterson touchdown.
"Adrian has a huge heart, and we're grateful for his willingness to support programs for at-risk youth and also shine a light on child sex trafficking," Kutcher, who has been fighting human trafficking for several years, said in a statement.
To help, visit Crowdrise to donate, track progress and win prizes. You also can text ADRIAN to 20222 to donate $10 and receive a message from Peterson.
"I'm going to score as many touchdowns as I can," said Peterson, who is preparing to play the Detroit Lions on Sunday, "but the ultimate goal is to raise awareness and get more people involved."