Last year, when Subway spokesman Jared Fogle finished his first New York City Marathon, he asked fellow sandwich endorsers, "Who's next?"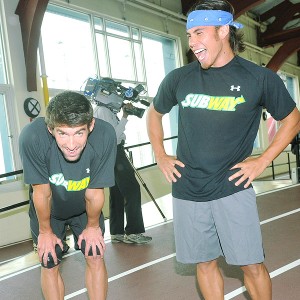 Diane Bondareff/AP ImagesGuess who is ready to run in the New York City Marathon, and guess who is Michael Phelps?
Blake Griffin? Ryan Howard? Justin Tuck?
Apolo Anton Ohno, who won eight Olympic gold medals as a short-track speed skater, raised his hand and has been training for the past few months in preparation for this year's marathon on Nov. 6.
"Yes, I was the only one who raised my hand out of all of us, but I wanted to run a marathon my whole life," said Ohno, who finished his first half-marathon in Chicago on Sept. 11. "This is very different for me. I'm used to running in 40-second or 90-second bursts. This way, you're running for hours."
On Tuesday, Ohno was in New York to train and meet his fans. He was joined by Olympic swimming champion Michael Phelps -- who definitely isn't thinking of running a marathon.
"My hand was the lowest out of all of us. I'm not a runner," said Phelps, who has won 16 Olympic medals -- 14 of them gold. "My sisters have done marathons, and I see how much pain they are in. I'm just not too good on land. I'm just clumsy out of the water."
With fewer than 40 days remaining, Ohno realizes he needs to step it up.
"This is the hardest thing I've ever done, but I'm really starting to enjoy this," Ohno said. "My body wants to shut down, but I see the goal. That's just part of my mental training. I'm enjoying the challenge."