Contain your cone-shaped bras -- if you can.
Superstar Madonna could be hitting this season's Super Bowl halftime show in Indianapolis. The news hit the Internet this week, and the pick isn't too far-fetched. Madonna recently announced that she's working on new music, hopes to have a new single out by the winter and a new album out by next spring, and what better place than the Super Bowl stage to get you back on the charts?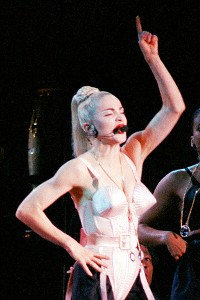 AP Photo/Keiichi TenmaMadonna is likely the halftime entertainment at the Super Bowl. Wonder what she'll be wearing.
"Who is bigger and better than Madonna? Madonna is a legend. Madonna is simply the biggest and the best who has ever done it," says Ronn Torossian, president and CEO of 5W Public Relations. "She's probably the biggest pop star in the world, and what's better than the world's biggest pop star performing on the world's biggest stage?"
The pick is far more edgy than any recent halftime acts. It's almost impossible to not talk about the 2004 Janet Jackson and Justin Timberlake performance and ultimate wardrobe malfunction and the fallout in the years since. Most pop culture analysts say that choosing classic acts like The Who and even last year's PG-rated -- but contemporary -- hip-hop band The Black Eyed Peas seemed safe.
Madge in 2011 isn't exactly who she was in the thick of the 1980s. Sure, she's a widely influential middle-aged popstar, but she's toned it down.
"Madonna is now in her mid-50s, so I certainly hope she doesn't come out in her cone bra," says rock historian John Covach, author of "What's that Sound? An Introduction to Rock and Its History." "Madonna is somebody who crosses age generations and crosses sex barriers. She's just somebody who the whole world wants to see. She's really a living legend. Yes, of course, people are going to jump up and down to watch her. It's not just a performer. She is bigger than, perhaps, anybody alive."
Plus, let's face it: Madonna also might bring out a more diverse audience.
"People have joked online, maybe a larger gay audience will come," branding strategist Adam Hanft said. "There are broad segments of the audience that she appeals to."
And if there is a naughty incident (and 50-something or not, this is Madonna we're talking about), then … "people love to watch a train wreck too," Hanft said with a chuckle.