Diehard sports memorabilia collectors always clamor to find something more inside packs of trading cards but this … well, it might not be topped.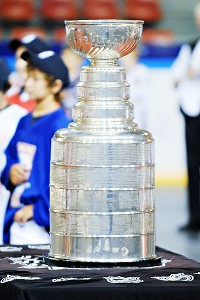 Jean-Piette Clatot/AFP/Getty ImagesTrading card fan wins a replica of this trophy in his set of cards.
One hockey fan recently took home a miniature replica of the Stanley Cup originally awarded to a member of the 1978-79 Montreal Canadiens simply by finding the right box of trading cards. It's a 13-inch trophy that Panini America bought at auction earlier this year for more than $4,000.
A redemption card for the trophy was found in a pack of Panini's 2010-11 Dominion hockey cards by collector Ernest Lantto of Ypsilanti, Mich.
"I saw the blue back [of the card] and I immediately recognized what I had," Lantto told Beckett Media. "Thank goodness there [were] no kids in the shop at that time."
After the accidental expletives and the congratulations, he contacted Panini.
"Congratulations, valued collector!" read the back of the card. "[The trophy] is stored safely in a vault inside Panini America headquarters. It will be delivered to you within days of you reserving it by submitting a redemption request … It is our desire to profile and register the special collector lucky enough to hoist the mini cup in Panini Dominion Hockey."
A few days later, he had the trophy in hand and, of course, he decided to sell his piece of history on eBay. While he originally posted the trophy with a $7,500 pricetag, he let it go late last week for $2,000.
While the big draw is gone, finding Dominion might not be easy, either, as the boxes -- which include just eight cards, three of those autographs -- carry a suggested retail price of $350 and already have topped $400.