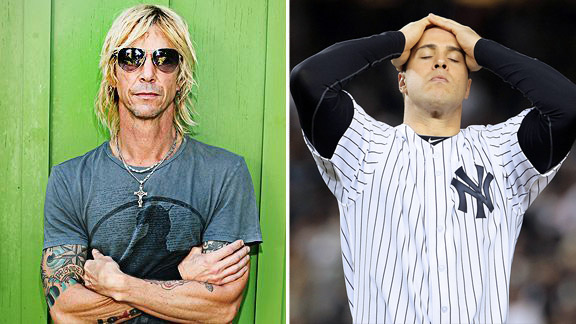 Getty ImagesDuff McKagan feels no schadenfreude over Mark Teixeira's and the Yankees' agony.
Like a lot of you who travel for business, I have ended up in New York City countless times over the past 25 years. It is the first American city that my band Guns N' Roses really "broke" in, outside of our hometown of Los Angeles. That city has hard angles and tough people, and they seemed to love my band's music.
Over the years, I have played too many gigs to count in New York and have made some very good friends there, too. My record company is there, and my book company is there. I am connected to Manhattan and know it well.
But I am a Seattle sports fan. When it comes to sports and games, New York has always been that all-too-powerful, rich, big market that just seems so unstoppable, which comes off to the rest of us as just unfair. I could, therefore, never have much empathy for the Yankees, Jets or Knicks when they would lose. You KNEW that their ownership would spend enough to make it "right" for the next season.
But last week, I spent six consecutive days in that city promoting my new book. I got to my hotel in time to watch the whole second half of the New York Jets getting shellacked by the Baltimore Ravens, and then the New York Yankees losing Game 3 of the American League Division Series to the Detroit Tigers. I was out in the city the next day, and actually for the first time ever, felt bad for some of my friends and acquaintances who are from that town. I do know a thing or two about having a losing team, after all. …