Analeigh Tipton was looking for an ice rink. But not a little pond. A big setup.
That's because the actress, in Montreal earlier this week shooting the offbeat zombie film "Warm Bodies" (also starring Rob Corddry and John Malkovich), is a former competitive figure skater, one who competed in U.S. Junior Figure Skating Championships and went so far as to live part-time with her coach.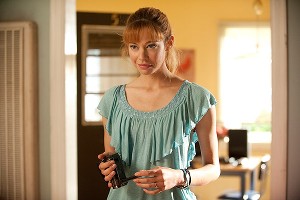 Lacey Terrell/HBOAnaleigh Tipton grew from 5-foot-5 to 5-10 and gave up a figure skating career.
"My childhood was spent on the ice and in the mindset of an athlete," said Tipton, a former "America's Next Top Model" competitor who currently can be seen on HBO's "Hung" (in a significant role as -- you're reading this right -- a not-so-naive schizophrenic pimp). "But when I was 16, I woke up one morning and was surprisingly tall for my age."
As in, taller than 5-5 -- which was her competing height at the time, the one at which figured she would remain. But the doctors were wrong. Tipton grew -- she's now about 5-10 -- and used that as an impetus to take her life in a new direction; "I also kind of wanted to be a normal teenager," said Tipton, who lived in Sacramento then.
So she got into theatre and the arts, and eventually made her way to Los Angeles as a writer -- not an actor. But as happens in Hollywood, little goes according to plan, as "one random opportunity led to another" in the acting world (she's still writing, too, she said).
So here she is, on screen in "Hung" or "Crazy, Stupid, Love" and on set in Montreal, staying in shape and occasionally looking for that recreational spin on the rink. But, Tipton said, she's not looking too far ahead at anything else.
"I'm trying not to think about [where I am] too much," said Tipton, who so far has specialized in offbeat, not-girl-next-door roles. "I'm trying to put the blinders on and continuing to audition. I won't take anything for granted.
"It really hasn't sunk in yet that this is my career. It still feels like a stroke of luck."