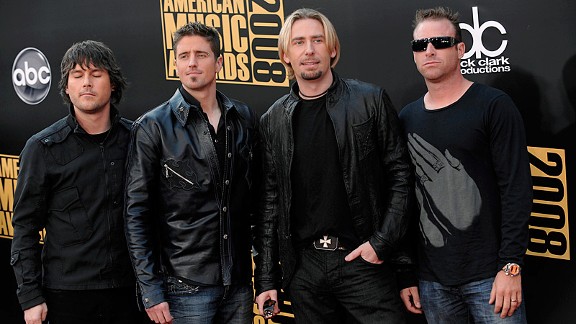 AP Photo/Chris PizzelloFans don't want Nickelback performing at the Detroit Lions' game on Thanksgiving.
Call it "Occupy Nickelback."
Or "Don't Occupy Ford Field."
Whatever the name, there's an Internet movement afoot: A petition designed to keep the oft-mocked Canadian rock outfit from playing at halftime of the Detroit Lions' Thanksgiving Day game against the Green Bay Packers.
It began with one man: University of Michigan graduate student/Michigan native/Thanksgiving Day ticket holder Dennis Guttman, a vehement anti-Nickelbacker who was "extremely disappointed" when he heard the band had been tabbed.
"There's so much good musical talent in the area, known for being Michigan people," Guttman told Page 2 by phone Wednesday night, citing Kid Rock and Bob Seger. "Nickelback was the last thing I expected them to throw out there for the halftime show."
But this is a time of action, so Guttman took it. Inspired by a similar anti-Nickelback movement by Winnipeg Jets fans, Guttman found his way to the reputable Change.org -- also home of the recent Bank of America debit card charge revolution -- and created a petition (the first he ever started, he said).
Now, thanks in part to a widespread disdain for Nickelback, it's taking off. From 10 signatures on Tuesday night, it crossed the 22,000 mark on Thursday -- and keeps growing.
"I'm absolutely shocked and happy," Guttman said.
And he still has that main goal: "It would be fantastic if they change it. … I'd like to hear some good music during halftime -- hopefully something that better represents Detroit."