Although a handful of college basketball games have already been played this week, the season really begins in earnest Friday. Today also happens to be Veterans Day. The perfect intersection of these two developments will take place aboard the aircraft carrier USS Carl Vinson, where North Carolina and Michigan State will play in the aptly named Carrier Classic -- the first college hoops game ever played on the deck of an aircraft carrier.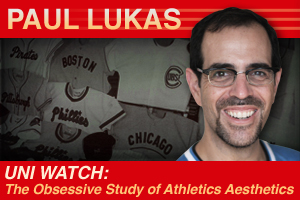 The Spartans and Tar Heels will mark the event by wearing camouflage uniforms, with "U.S.A." on the back instead of the players' names. Michigan State is going a step further by wearing camo sneakers. And in a modern twist, Nike has manufactured these uniforms largely from recycled plastic bottles.
Although camo uniforms are a fairly standard patriotic gesture at this point, coaches Roy Williams of UNC and Tom Izzo of Michigan State say they mean more on Veterans Day, as you can hear them discussing in the video above.
The Carrier Classic won't be the only place where the uniforms will honor Veterans Day. At least two college football teams -- Rutgers and Wyoming -- will be wearing star-spangled helmets on Saturday, and the NFL has released a series of camouflage ribbon logos, which will be showing up in various capacities around the league Sunday.
In addition, Friday is Remembrance Day in the British Commonwealth countries, which means lots of people will be displaying poppies. (If you're not familiar with this tradition, look here.) In the sports world, this means coaches of Canadian hockey teams have been wearing poppies on their lapels, British soccer teams have been wearing poppy badges on their jerseys, and so on. There was even a bit of a poppy controversy earlier this week in the world of international soccer.
The other important thing about Friday, of course, is that it's Corduroy Appreciation Day. But Nike hasn't announced any plans for corduroy uniforms. Yet.