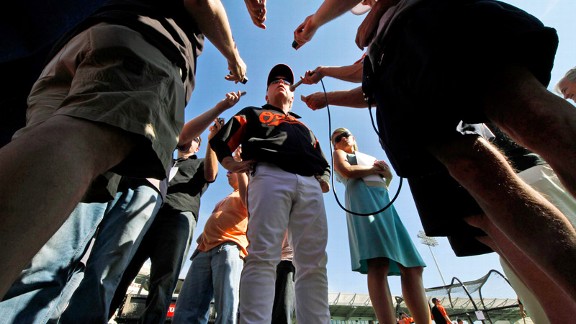 AP PhotoAccording to MLB's new dress guidelines, baseball reporters' skirts and shorts should fall no more than 3-4 inches above the knee.
Muscle shirts.
That's how I figured out that baseball's new media dress guidelines have more to do with what women wear. They might as well have thrown in clown shoes, beaver-skin top hats and parachute pants -- because I've been in press boxes for the last 15 years and I cannot recall ever seeing a muscle shirt.
My guess is that someone didn't want the reporter's list of What Not To Wear to be exclusively feminine. Hence, the dreaded muscle-shirt ban.
To recap the news: Major League Baseball is instituting dress guidelines for reporters. Among the guidelines: All shorts and skirts should be no more than 3-4 inches above the knee; no tank tops, team logos or flip-flops; and reporters should dress in business casual. This was done in conjunction with some members of the media, and was ostensibly gender neutral. In fact, Susan Slusser, vice president of the Baseball Writers Association of America and one of the members of the committee that crafted the guidelines, called the process "absolutely gender nonspecific."
It is no doubt true that many male sports reporters look like extras from "Weekend at Bernie's," but that's not the reason for this policy.
This policy is about women.
An Associated Press story says, "The skimpy attire worn by some of the TV reporters covering the Marlins in Miami drew particular scrutiny."
Also referenced was the infamous appearance of TV Azteca reporter Ines Sainz at a Jets practice more than a year ago. If any team could have been saved some trouble by having a media dress code, it's the Jets. So I asked coach Rex Ryan, whose owner Woody Johnson had to pay for a leaguewide program on appropriate behavior in the workplace, what he thought of MLB's new policy.
He smiled, glanced down at his gray sweatpants and Jets hoodie, and then surveyed a room of reporters that included four or five smartly dressed women.
"I hope there's no dress code for the media deal, I certainly hope that's not the case," Ryan said. "You guys look better than I do. So, I don't know, you guys won't have any problem anyway. Everybody always looks good."