Juan Contreras wants to set the record straight.
He is indeed a huge Denver Broncos fan, but he definitely is not a Tim Tebow fan.
Contreras, 26, is the Colorado man whose new "Tebow Time" centaur tattoo is making the rounds on sports blogs, message boards and social media. Page 2 caught up with him to get the story behind the glorious new tattoo.
In what doesn't qualify as much of a surprise, Contreras lost a bet to a friend.
A little background: Contreras and his friend Gabe Lopez, who owns Love N Hate Elite Tattoo Studio in Denver, took great delight earlier this season in teasing fellow Broncos fan Josh Lucero about being a Tebow supporter. So Contreras and Lucero, who's a tattoo artist at Love N Hate, agreed to a wager when Tebow was named starting quarterback of the Broncos: If Tebow won five or more games this season, Contreras would get a "Tebow Time" tattoo; if Tebow won fewer than five, Lucero would get a tattoo disparaging Tebow.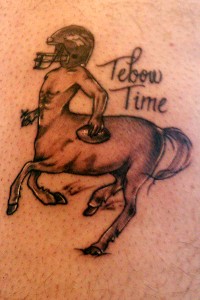 Juan Contreras After getting this tattoo, Broncos fan Juan Contreras has learned not to wager against Tim Tebow.
"Josh is a huge fan of Tebow," Contreras said. "Me and Gabe were always giving him crap because we were skeptical of Tebow and the way he played."
Skepticism notwithstanding, Tebow got win No. 5 when the Broncos won at San Diego on Nov. 27. So Contreras and Lucero came up with the centaur idea last weekend, partly as a nod to the Broncos -- but mostly because the image is just ridiculous. Then Lucero texted a photo of the tattoo sketch to Contreras on Tuesday morning.
"I just couldn't stop laughing," Contreras said. "I was like, 'Well, if I'm going to get something I'm going to regret, I might as well make it something funny.'"
A few hours later, he was the new owner of a cheesy "Tebow Time" tattoo on his upper thigh. Since then, reaction from family and friends has been overwhelmingly positive.
"Everyone who knows me knows that I don't take anything too serious, especially not a tattoo," Contreras said. "So everybody just thinks it's funny."
Even his wife?
"Yeah, she thinks it's hilarious."
Meantime, Lucero, who has worked as a tattoo artist for nearly five years, is miffed that his work on the "Tebow Time" tattoo is being maligned in the blogosphere. He said critics are completely missing the point.
"It's supposed to look bad," Lucero said. "It's really pretty crappy. It's funny."
Contreras said "Tebow Time" is his 18th tattoo, but the first one related to sports. He said he won't get the tattoo removed, even if the Broncos trade or cut Tebow at some point in the future.
Looking ahead, will there be any more friendly wagers between these Broncos boosters?
"Right now, no one really wants to bet about Tebow anymore," Lucero said. "I think they all kind of learned."
Indeed.
"I would never bet against Tim Tebow again," Contreras said. "But I still would prefer someone else under center. I don't think [the Broncos] are ever going to be an elite team running that style of offense."
So take a good look at the photo above while you can, because Contreras isn't likely to show the tattoo off in person.
"It's weird because people want to see it," Contreras said. "Well, I'm not going to drop my pants to show you the tattoo."