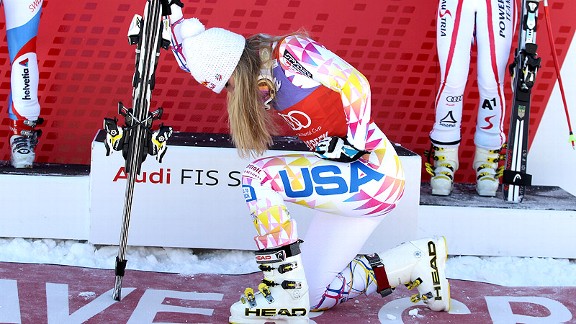 AP Photo/Alessandro TrovatiWill Olympic skier Lindsey Vonn join "Dancing with the Stars" this year?
Lindsey Vonn, one of the best skiers in the world, sits in a hotel in Courchevel, France, with her phone blowing up after reading all these Internet reports about her dating Denver Broncos quarterback Tim Tebow.
"We're not dating," Vonn said to everyone who would listen. "At times like these you just have to laugh."
Here's how the media has "twisted all of this," Vonn said:
Vonn and Tebow met at the ESPYs this past summer in Los Angeles. They hang out at various charity golf tournaments. Both families hang out at ski events. In early December, Vonn won the super-G event in Beaver Creek, Colo., and "Tebowed" to honor her friend. And, this past weekend, Vonn sat in the Tebow family box during Sunday's game against the Chicago Bears.
Oh, and Vonn, in November, announced that she is starting divorce proceedings from Thomas Vonn, her husband of four years.
"Hey, I realize when I 'Tebowed' that probably didn't really help anything!" said Vonn, who has three World Cup titles and two Olympic medals. "I was just trying to show my support for the Broncos. I have really a lot of respect for Tim and what he's done. He's such an amazing person and an inspiration to all."
Vonn has talked with the Tebow family about the rush to judgment from the media.
"When I showed up at the Broncos game, people were speculating that I must have been dating a Bronco. It's just the way things are these days," said Vonn, who lives in Vail, Colo. "We talked about it, and hopefully people now are figuring out we're not dating. It's just part of what is happening these days, the way people love to speculate on life, personally and professionally, and you just have to move on."
And that means Vonn will compete this weekend in the giant slalom and slalom as the 2011-12 Alpine World Cup season continues. And stay on the road until March.
So Vonn will celebrate Christmas away from home -- again.
"I'll be hanging out with some friends and we'll try to celebrate here," Vonn said. "The thing that will put me into the Christmas spirit is the movie 'White Christmas.' Yes, it's an old one. But that always reminds me of growing up."