Nick Lachey isn't proud of it but he speaks the truth.
"This year, it's been a catastrophic breakdown of my body," said the 38-year-old Lachey, who rose to fame in boy band 98 Degrees then became an actor. "I had to see the doctor about a pinched nerve in my neck. I have all these aches. I'm totally breaking down."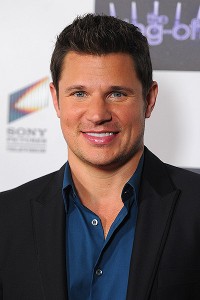 Alberto E. Rodriguez/Getty Images Nick Lachey kicked 2 of 3 field goals in NYC Friday afternoon.
But that didn't stop Lachey from showing up in midtown Manhattan on Friday afternoon, along with football greats Jim Kelly, Rodney Peete, Eddie George, Antonio Pierce and the Gramatica brothers as part of the Tostitos Fiesta in the Square to benefit Big Brothers Big Sisters.
Taking place in the heart of New York City, the celebration converted the Times Square Military Island into a regulation-size college football end zone, where fans were helping set a Guinness World Record for the most people to kick successful field goals in six hours. As part of the event, the Tostitos brand will donate $100,000 to BBBS. If the record is set, the Tostitos will double that amount.
"I'm having a blast out here. We're going to set this record and get that extra money. We got really lucky with the weather," said Lachey, who is serving as party host. "It's great to see everyone here to help with this great cause."
Lachey had always been around sports before moving into the entertainment industry. He even studied sports medicine at Miami (Ohio) University.
So after playing basketball and baseball, kicking a football through the uprights shouldn't be that hard, right?
"It's harder than it looks. Granted, I did a little preparation before coming to New York," Lachey said. "I didn't make a complete fool of myself. I made 2-of-3. That's pretty respectable."
And after this event, Lachey and his 31-year-old wife, Vanessa Minnillo, will head back to Cincinnati to celebrate the holidays and watch his favorite Cincinnati sports. Technically, he's still in the honeymoon period with his wife of less than six months.
"She keeps me young, or she's aging me even quicker. I'm not really sure," Lachey said. "And we'll be in Cincinnati, the sports mecca of the world! After the great season the Bengals have had, we consider them already having won the Super Bowl."