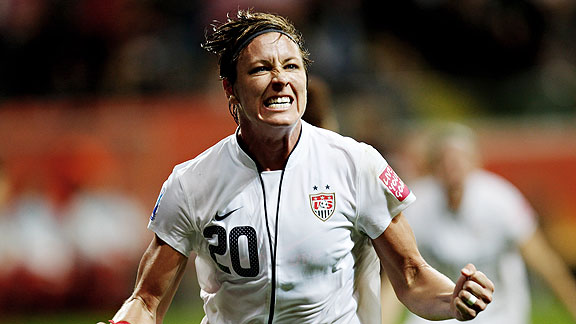 Friedemann Vogel/Getty ImagesAbby Wambach topped teammate Hope Solo to win the AP Female Athlete of the Year Award.
Soccer star Abby Wambach is a little sheepish about winning the Associated Press Female Athlete of the Year Award.
Wambach's clutch performance at this summer's World Cup made her the clear choice as the female athlete of the year, as selected by members of the AP. The U.S. forward received 65 of the 214 votes cast, while teammate Hope Solo (38) was a distant second and former UConn basketball star Maya Moore (35) was third.
"When you're involved in team sports, the focus has never been on one person. This is quite humbling," said Wambach, who is the first individual soccer player -- man or woman -- to win one of the AP's annual sports awards, which began in 1931. "I don't take this for granted and I love the honor, but you must put the team first, otherwise these awards don't happen."
Wambach's four goals in Germany give her 13 in three World Cup appearances. That's the most by an American, topping Michelle Akers by one, and puts her third on the all-time World Cup scoring list behind Brazil's Marta and Germany's Birgit Prinz. The 31-year-old ranks third on the U.S. career scoring list with 125 goals, trailing only Mia Hamm (158) and Kristine Lilly (130).
"When I got into this game, I wanted to be as good as Mia or Kristine. They paved the way for me. And they have some very big shoes to fill," said the 31-year-old Wambach, who is from Rochester, N.Y. "So I can sit here and say I'm a great finisher to win this award, but someone had to get me the ball. The coaches had to put us in position. It's especially gratifying to win because it's been six months since we played those games and we're still making waves."
Who would she have voted for?
"That's a really good question. There are so many talented people in their own right," said Wambach, who never really did answer the question.
And, with that, Wambach has a few more goals remaining.
"The first thing is wanting to qualify for the London Olympics. And the second thing is winning that gold medal," she said. "And I want to give hope to all the girls who will be part of the next generation of soccer players. When I retire, I want to make this game better than when I found it."