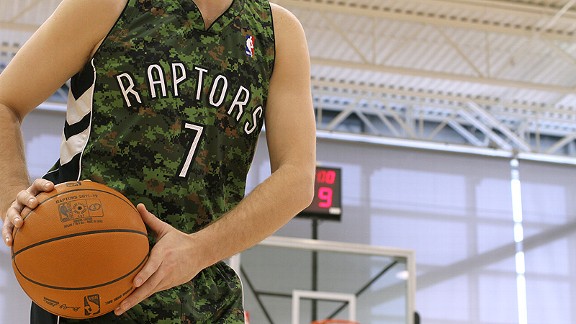 Courtesy of Toronto Raptors The Toronto Raptors will wear this camouflage uniform to salute the Canadian military on March 21.
We've seen camouflage uniforms in Major League Baseball, in college football, in college hoops and in the NHL (OK, only for warm-ups, but still ...). But there's never been a camo uniform in the NBA.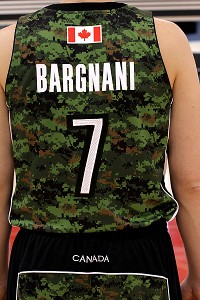 Courtesy of Toronto Raptors
Until now.
As you can see in these exclusive photos, the Raptors have created the NBA's first-ever camouflage uniform.
It will make its on-court debut March 21, as part of Canadian Forces Night, and will be worn three more times after that.
The move reflects the Raptors' ownership group's longstanding commitment to support of the Canadian military (COO Tom Anselmi has actually gone so far as to visit the country's troops in Afghanistan).
The camo design is probably the most audacious new uniform of the 2011-12 NBA season, but there are plenty of other new designs to keep tabs on.
You can get the full scoop in the annual Uni Watch NBA season preview by clicking here.