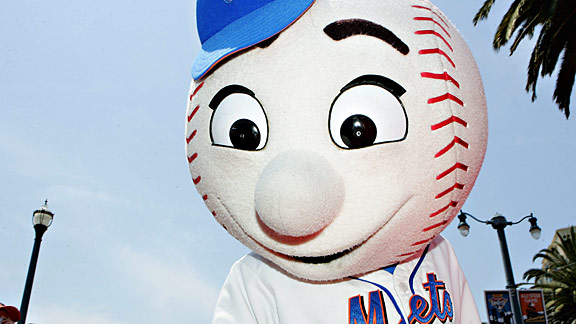 Justin Sullivan/Getty ImagesMr. Met is clearly willing to go the extra mile to help reel in investors for the New York Mets.
The New York Mets are seeking investors to pay $20 million for minority, noncontrolling interests in the team.
By making such a purchase, investors will be entitled to business cards which read "owner," a parking space at Citi Field, the opportunity to throw out a ceremonial first pitch and access to the team's popular mascot, Mr. Met.
Page 2 speculates on exactly what kind of access to Mr. Met new owners will be able to enjoy ...
Ten (10) late-night phone calls. Mr. Met will listen patiently to your frustrations concerning your corporation/your wife/the recent performance of the New York Mets.

Eight (8) Freudian therapy sessions. If analysis is not completed within the allotted time, additional sessions are available for a fee.

Five (5) epiphanies, where Mr. Met stares silently at you for as long as fifteen (15) minutes, as you realize something life-altering that you knew, deep inside, all along.

Three (3) trips with Mr. Met to a T-shirt gun firing range. (Insurance available for an extra fee, from same company that insured Mo Vaughn's contract!)

One (1) karaoke session where Mr. Met dances along, enthusiastically, as you rap "Get Metsmerized."
... and what perks will clearly NOT be available.
Orchestra seats to Mr. Met's two-man, off-Broadway show with Bill Irwin, "Fool Met."

The ability to tell people, "Mr. Met is my best friend." Mr. Met is not your friend. This is business.

The erroneously reported private Mr. Met Lap Dances. Mr. Met's new motto is not "You can't touch him, but he can touch you."

The ability to bash Mr. Met's head, piñata-style, until candy pours out. Although, this perk is available for an additional cost.

Any privileges whatsoever with Lady Met.