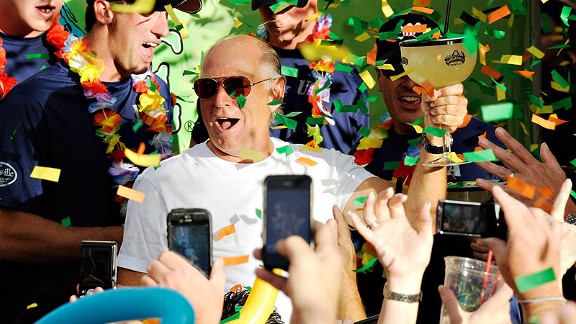 Ethan Miller/Getty ImagesOne time, Jimmy Buffett was thrown out of a basketball game between the Knicks and Heat.
Jimmy Buffett is a Grammy-nominated singer/songwriter and film producer with millions of fans around the world. The king of the parrotheads took time out to answer questions about his love of sports, what's on his bucket list and how he feels about assisting Miami Heat's Shane Battier with his big announcement. ( Note to Shane Battier: Jimmy plays in Miami Jan. 28. Watch your Twitter -- you might get an invite to play the congas. …)
I hear you love sports. What is your favorite team?
I'm a big sports fan, but favorite … the Saints! I grew up as a Saints fan. I was at the very first game the Saints played in New Orleans -- nobody knew who I was back then. It was probably before you were born!
Shane Battier announced he was going to Miami via Twitter and said, "This was a exciting process and after much deliberation, I would like to quote the great poet Jimmy Buffett and take my chances "Trying to Reason with Hurricane Season." How do you feel about "assisting" with his big announcement?
"I like it a lot. I was a big fan of his during the Duke days. Being a big Heat fan, I think it's great. I think he has a lot of dimensions. He's going to be a huge asset. I'm happy with it."
In 2001 you were ejected from a Heat versus Knicks game for cursing at referee Joe Forte. Looking back, what are your thoughts, and would you do anything differently?
"No, I wouldn't do anything different. I remember it humorously now. Alonzo [Mourning] was telling me to stay there. He [referee, Joe Forte] didn't have any idea who I was. Some people thought it was a publicity stunt. … It completely wasn't. My son was young, and I told him I was going to have to leave the game because I said a bad word. He said, 'Do I have to leave?'"
What's on your sports bucket list?
"Saints to win the Super Bowl next year in New Orleans, and I'll be there."
Will you be playing halftime? I'm going to vote for that!
"No. I wouldn't do the halftime show unless it was live. I don't lip sync."