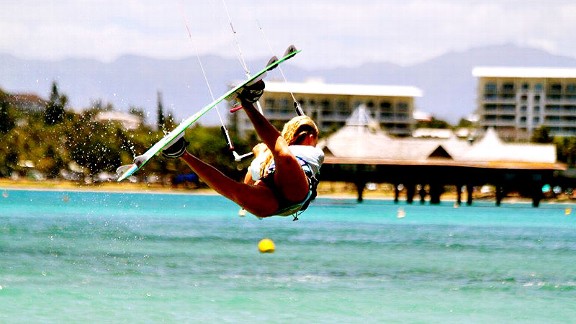 Courtesy of Maika MonroeMaika Monroe started kiteboarding at the age of 11 and hopes to balance that with acting.
Have you heard of Maika Monroe?
In a few months, you will.
See, she's the girlfriend to heartthrob Zac Efron in a new untitled movie, which is directed by Ramin Bahrani and co-stars Heather Graham and Dennis Quaid.
Monroe is also a professional kiteboarder.
"It's really cool to be able to do both," said the 18-year-old Monroe, who grew up in California. She has been kiteboarding for seven years and acting almost as long. "I get a chance to be in this film with these amazing actors, the coolest people ever, and I try to kiteboard as much in my free time as I can."
Kiteboarding (or kitesurfing) is an action sport where you harness the power of the wind to propel a rider across the water on a small surfboard/kiteboard, which is similar to a wakeboard.
"I was watching my dad do it a bunch of times and I thought it was the coolest thing ever, so I convinced him to let me do it," Monroe said. "I was hooked. I fell in love with the sport."
Right now, Monroe is No. 32 in the world in freestyle kiteboarding and recently finished ninth in a competion in New Caledonia a few weeks ago. That was after crashing into some rocks in practice and requiring a few stitches.
"The scar is right behind my hairline, so I was very lucky," she said. "My acting agent wasn't too happy about that crash!"
Monroe returned to the states to finish filming the movie, which is about a farmer (Quaid) whose insistence on expansion begins to drive a wedge between he and his family.
When that movie hits, Monroe knows that she might be spending more time acting and less time kiteboarding. But she plans to try to do both.
"I can see myself competing and then Skyping with my acting coach and then traveling to film my scenes," Monroe said. "I want to do more competitions and more auditions. I'm really excited, hoping this movie helps me land other roles."