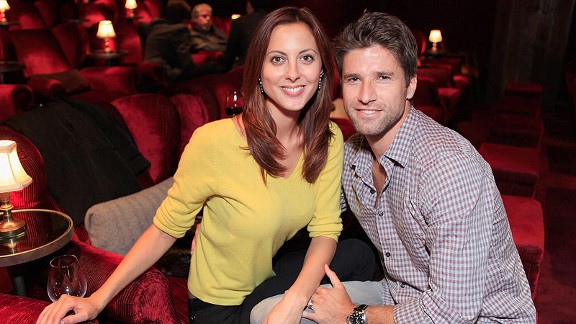 Jeff Vespa/WireImageSoccer broadcaster Kyle Martino is married to actress Eva Amurri, daughter of Susan Sarandon.
Just a few days ago, soccer analyst Kyle Martino posted this on Twitter:
"Rumors are true. I'm appearing as a guest judge on Cup Cake Wars this Sunday. Partly cuz of soccer theme but more cuz I'm skinny fat kid."
That kind of humor is one of the reasons Martino was cast as a special judge this weekend for Food Network's "Cupcake Wars," a reality-based show in which contestants create cupcakes with unusual ingredients for a chance at $10,000 and the opportunity to showcase their cupcakes at a winning gig.
This Sunday at 8 p.m., Food Network is broadcasting the episode in which the triumphant pairing takes their cupcakes to this past fall's MLS Cup in Los Angeles.
And Martino, who "enjoys being an ambassador for the league," loved every bit of the taping of the show.
"I probably ate five entire cupcakes. Each cupcake was like a three-course meal," said Martino, who is lead color commentator for Fox Soccer's broadcast of Major League Soccer. "Hey, if I had stayed off sweets, I probably would still be playing soccer!"
Martino is joking, but he still is in great shape. The 30-year-old former runner and University of Virginia star played more than 100 matches for the Columbus Crew and the Los Angeles Galaxy from 2002 to 2007. He then moved into broadcasting.
"I was blessed with a good metabolism. Younger, I was running eight miles a day and still able to eat a pint of Ben and Jerry's ice cream. But that was then," said Martino, who married Susan Sarandon's daughter, actress Eva Amurri, in October. "These days, I might be the only ex-professional athlete who gets winded going up the stairs."