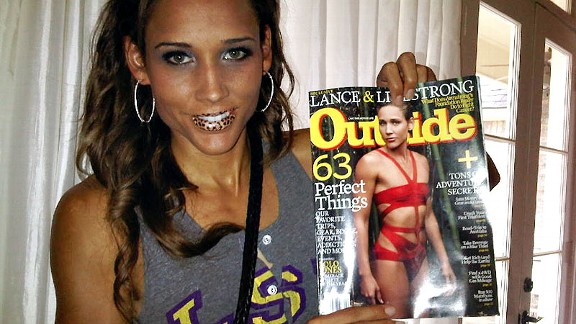 Ilana TaubLSU grad Lolo Jones shows off the cover while preparing for the BCS game. Check out her Tiger lips.
Check out the smile on Lolo Jones' face.
Well, that was before Monday night's BCS National Championship Game between Jones' alma mater, Louisiana State University, and Alabama.
Jones, a 2005 LSU graduate, won NCAA titles, indoor national titles and gold medals at the world indoor championships, and now she's preparing for the Olympics.
And she is appearing in the February issue of Outside magazine, which focuses on the outdoors.
So here are five quick questions with Jones as she was heading to the Red Bull party in New Orleans:
Where was the cover shot?
"The LSU Hilltop Arboretum."
What was it like working with photographer Robert Maxwell?
"He was cool and laid-back. I told him that I'm not a model and I need direction, but he was more into just letting it happen. He knew that I was relaxed during breaks between shots and tried to catch me then."
What did you think of the outfits?
"I didn't think I would look good because they are so small. I am an athlete, so I have a flat chest, so I wanted to ask where the padding was! But they fit perfectly, and I really liked them."
What do you think of the finished product?
"It was great. It's definitely going to get me some dates or get my ex-boyfriend back! They are fierce and good-looking going into the Olympic year that I can be fierce and powerful. I like it."
How is training going, and are you ready for the Olympics?
"Training is going great. I'm ready for my first string of races to shake the race rust off and go from there."
Later at the Red Bull tailgating party, Jones sent a text: " Man, it's crazy. I'm surprised everyone is getting along! I think once we are inside the dome people will get aggressive rooting for their team. Right now it's really fun."
Yep, that mood changed quickly.