Kate Mara hails from football royalty.
Her great-grandfather on her father's side is Timothy Mara, founder of the New York Giants. Her great-grandfather on her mother's side is Art Rooney, founder of the Pittsburgh Steelers.
Despite Pittsburgh's loss last weekend, Kate will still be watching two contests this Sunday. Her little sister Rooney will be going for a win at the Golden Globes for her work in "The Girl with the Dragon Tattoo" and the Giants are taking on the Packers in Green Bay.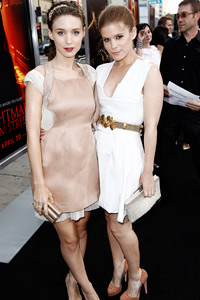 AP Photo/Matt SaylesKate Mara (right) and her sister Rooney are actresses with a long football lineage.
The star of "Blackbird," which recently completed filming with Olivia Wilde and Eric Bana, recently spoke with Page 2:
Who is your favorite all-time Giant? Steeler?
That's tough because there have been so many great and nice players over the years. But I would have to say [Lawrence Taylor] as I was always in awe of him as a kid. I like Hines Ward as he's not only a great player but a great guy in the community.
Did you see Hines' stint as a Gotham Rogue in the new Batman trailer? In a way you almost worked alongside Ward ... is it true you were being considered for the role of Catwoman?
No, I haven't seen the trailer yet but I am sure it is awesome. Christopher Nolan is one of my favorite directors and just to get the opportunity to test for such an iconic role as Catwoman was a honor. I couldn't talk about it for a while because the movie was so top-secret but I am excited to see how it all turns out.
You played a cheerleader in "We Are Marshall" and in "Nip/Tuck." Were you a cheerleader in high school?
No, I wasn't. Actually it is interesting to note that both the Giants and Steelers are a few of the NFL teams who don't have cheerleaders. I actually graduated high school early to pursue my acting career and I never got into cheerleading. My older brother was the quarterback so I would go to games to support him and I was always more interested in paying close attention to the game.
"Tebowing" has taken the nation by storm, not to mention he was just voted America's most desired neighbor. You are single. Would you consider dating...
Wait... What? Tebowing? What? All I know is he just beat my team!